Our Team is updating this daily as more information becomes available to support you, your business, and your employees.


Vermont Forward Reopening Plan
Governor Phil Scott has unveiled his "Vermont Forward" reopening plan. The plan calls for a staggered reopening of all industries as vaccination rates increase. The Governor and his cabinet announced a phased reopening timeline between Friday April 9th and Independence Day. These phases - or steps - are based on prescribed benchmarks, specifically the percentage of which all Vermonters are vaccinated.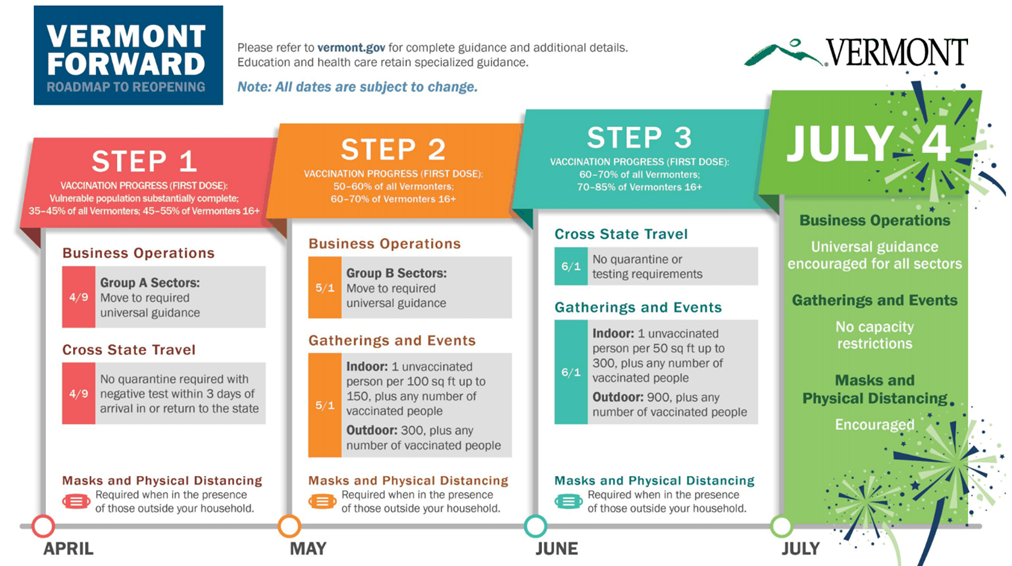 The Full Vermont Forward Plan is available here and will be updated as we progress through the phases.
The ACCD held a webinar to discuss the plan on April 14th. The recording is here. The slides are here.

We Are Currently in Step 2 of the Vermont Forward Plan

Under Step 2: Effective Saturday, May 1st Group A and B businesses are allowed to open to 100% capacity so long as retailers provide 6 feet of space for every shopper and they comply with the universal guidance and work safe guidance from the ACCD. Group A includes: Outdoor Businesses, Low or No Contact Professional Services, Farmers Markets, Outdoor Recreation and Fitness, Retail Operations, Lodging, Campgrounds, and Other Accommodations, and Religious Facilities and Places of Worship. Group B includes: Manufacturing and Distribution, Restaurants, Catering, Food Service, Social Clubs and Bars*, Hair Salons and Barber Shops, Close Contact Businesses (Gyms, Fitness Centers, Spa's, Nail Salon's etc), Indoor Arts, Culture and Entertainment, Meetings of Public Bodies.
*Restaurants, Catering, Food Service, Social Clubs and Bars must still stop service at 10pm nightly in accordance with Addendum 15 to Amended and Restated Executive Order No 01-20
Universal Guidance for Businesses is here.
It includes:
staying home if sick
wearing a mask
ensuring 6-foot spaces,
practicing good hygiene and
knowing the travel restrictions
A small portion of businesses are still operating under restricted guidance. If you do not see your business category listed above check the ACCD website for specialized guidance.
Updated Travel Quarantine Guidance From Vermont Forward
Effective Friday, April 9th: No quarantine is required with a negative test within 3 days of arrival in or return to the state. The next change in quarantine requirements is not projected to occur until June as part of step 3 of the Vermont Forward plan.
Staying Safe and Compliant
Mask Use for Employees
The ACCD has mandated mask use for employees interacting with others in close proximity. The mandate reads "Employees must wear face coverings over their nose and mouth when in the presence of others. In the case of retail cashiers, a translucent shield or "sneeze guard" is acceptable in lieu of a mask." Employees should wear a mask when in the presence of the public or coworkers, any time social distance cannot be maintained.
Governor Phil Scott has signed an executive order mandating that masks be worn in public when in the presence of others. ACCD guidance on the facemask mandate is here. Additionally, signage must be posted by your business.
Useful Print Outs
Cleaning:
State of Emergency Extended to May 15th
The latest order continues the state of Emergency to May.
The Governor has begun the Vermont Forward reopening plan. We will continue to update the Vermont Forward section of this webpage as we advance through the phases. Please refer to that portion of this page for information on travel, business operation, etc.
Statewide Mask Mandate Ongoing
Per Governor Scott's July 24th Executive Order, there is an ongoing mandate for Vermonters to wear masks when in the presence of others. This mandate has been continued through the extension of Governor Scott's State of Emergency, and is anticipated to continue until Step 3 of the Vermont Forward Plan. There is a signage component to the order, detailed below.
Businesses and non-profit and government entities shall implement measures notifying customers or clients of the requirement to wear masks or facial coverings, which may include, but shall not be limited to, posting signage stating that masks or cloth facial coverings are required and denial of entry or service to customers or clients who decline to wear masks or facial coverings.
Recommended signage can be found here.
VRGA strongly encourages members to:
Print or request signage and post it at the front door and in conspicuous places around your business
Post the mandate on your social media to alert customers of the changes
Communicate this mandate to your employees and customers as soon, and as often, as possible to alleviate any confrontations or uncomfortable situations.
The Agency of Commerce and Community Development has published the following guidance on the mask order:
"As of Saturday, August 1, 2020, Vermonters and visitors are required to wear masks or cloth facial coverings over their nose and mouth any time they are in public spaces, indoors or outdoors, where they come in contact with others from outside their households, especially in congregate settings, and where it is not possible to maintain a physical distance of at least six feet.
A person who declines to wear a mask or cloth face covering because of a medical or developmental issue, or difficulty breathing, shall not be required to produce documentation, or other evidence, verifying the condition."

Mandatory Health & Safety Requirements for all Business, Non-Profit & Government Operations
Employees will be required to complete, and employers must document, a training on mandatory health and safety requirements as provided by VOSHA, or another training program that meets or exceeds the VOSHA-provided standard.
This training is available here.
Businesses that are open to the public will be required to conduct pre-screening or health surveys to verify each employee has no symptoms of respiratory illness (fever, cough, and/or shortness of breath), including temperature checks to the extent possible, prior to the start of work each day.
The Vermont Occupational Safety and Health Agency (VOSHA) has developed training and other materials to inform Vermonters on appropriate safety measures necessary to return to work amid the COVID-19 pandemic. Training and other materials were developed in conjunction with the Vermont Department of Health and the Agency of Commerce and Community Development.
Guidelines for Businesses from Vermont ACCD
Federal Response

Temporary Small Business Window for PPP Loans is closed, PPP is now available for all businesses again until May 31st.

SBA is currently implementing the American Rescue Plan signed into law by President Biden on March 11, 2021. You can sign up to receive email alerts on program changes here. The American Rescue Plan Act provides an additional $7.25 billion in funding for the PPP and expands PPP eligibility to include additional nonprofits (including certain labor organizations) and digital news services providing local news and public health guidance.
The American Rescue Plan also created a new, simpler, forgiveness application for PPP loans under $150K.
Simple Forgiveness Form for Loans Under $150K
On March 30th, 2021 President Biden signed the PPP extension act into law. The act extends the application period of the PPP program until May 31st, 2021.
The PPP Program has reopened
PPP Program

The relief bill reopens the PPP program for first time borrowers

$35 billion set aside for first time borrowers, $15 billion out of that amount set aside for borrowers with 10 employees or fewer or loans less than $250K for low income areas

The relief bill expands the list of eligible expenses to include:

Covered operations (software, cloud computing, and other human resources and accounting needs); property damage costs due to public disturbances that occurred during 2020 that are not covered by insurance; covered supplier costs; and covered worker protection expenditures (PPE)
The bill expands the eligible expenses for ALL issued PPP loans

The relief bill provides for a second round of PPP loans to go to businesses who already received PPP funding in the first round of the program

Open only to Small Businesses with 300 or fewer employees that have sustained a 25 percent drop in revenue in any quarter of 2020 when compared to the same quarter in 2019.
Businesses must use or have used the full amount of their first PPP loan in order to apply for a second loan
The maximum amount available for a second PPP loan is $2 million dollars$25 billion dollars has been set aside specifically for employers with ten or fewer employees
Seasonal employers may calculate their maximum loan amount based on a 12-week period beginning February 15, 2019 through February 15, 2020.

Clarification of the Tax Treatment of PPP loans was included in the bill

Gross income does not include any amount that would otherwise arise from the forgiveness of a Paycheck Protection Program (PPP) loan
Clarifies that deductions are allowed for otherwise deductible expenses paid with the proceeds of a PPP loan that is forgiven, and that the tax basis and other attributes of the borrower's assets will not be reduced as a result of the loan forgiveness
These changes to the tax handling of PPP are effective retroactive to the date of enactment of the CARES act, and extended to include any second round PPP borrowing

EIDL Program

New Targeted EIDL Advance Program

The advance is, again, in the amount of $10K

This time it is not calculated based on employees
If you did not receive a full $10k grant during the first round of EIDL advances due to a low number of employees (less than 10) you can apply for this advance. If approved, you will receive the difference between your first round advance and the full $10K (IE: if you received $6K, you would receive $4K now)

The application for the advance will be posted on the SBA website when available
The advance does not have to be repaid
For businesses and private non-profits (except agricultural enterprises) which are:

Located in low-income communities, and
Have not more than 300 employees, and
Have suffered an economic loss: a reduction in gross receipts greater than 30% defined by the amount by which the gross receipts of the business declined during an 8-week period between March 2, 2020 and December 31, 2020 relative to a comparable 8-week period preceding March 2, 2020, or during 2019.

VRGA will provide more information on where and how to apply when it is available

Extended EIDL Loan Program

Extends the application period of the EIDL loan program to 12/31/21
Application available now at: https://covid19relief.sba.gov/#/
Current loan cap is $150K
no real changes to EIDL other than extension of application period
Eligibility:

Businesses up to 500 employees, and if over 500 they must meet SBA size standards, or alternative size standard
Generally 501(c), (d), or (e) of the Internal Revenue Code of 195

New Federal Relief Bill Allows PPP Recipients to Claim Employee Retention Tax Credit for 2020 and 2021

Talk to your accountant now to determine whether you qualify for and should seek out this valuable tax credit!
What is ERTC?

The Employee Retention Credit (ERTC) is a refundable tax credit against certain employment taxes. Eligible employers can get immediate access to the credit by reducing or eliminating employment tax deposits they would otherwise be required to make. Generally, the ERTC is a credit that reduces an employers required Form 941 tax deposits
Qualifying Employers can take an ERTC for qualified wages in 2020 ($5,000) and the first two quarters of 2021 ($14,000), resulting In a total credit of up to $19,000.00 per employee!
The CARES Act (March, 2020) created the ERTC. For 2020, Eligible Businesses could qualify for credit of up to $5,000.00 per employee. However, businesses who received a forgivable PPP loan were not eligible to claim an ERTC. Most small businesses opted for a forgivable PPP loan, so an ERTC wasn't an option for them. This changed with the recent relief bill. Now PPP recipients can claim the ERTC. This is retroactive to the effective date of the ETRC included in the CARES act.

Who qualifies?

Employers, including tax-exempt organizations, are eligible for the credit if they operate a trade or business during calendar year 2020 and experience either:

The full or partial suspension of the operation of their trade or business during any calendar quarter because of governmental orders limiting commerce, travel, or group meetings due to COVID-19, or
A significant decline in gross receipts. A significant decline in gross receipts begins:
on the first day of the first calendar quarter of 2020 for which an employer's gross receipts are less than 50% of its gross receipts for the same calendar quarter in 2019.•
The significant decline in gross receipts ends on the first day of the first calendar quarter following the calendar quarter in which gross receipts are more than of 80% of its gross receipts for the same calendar quarter in 2019.

What does this cover?

The credit applies to qualified wages (including certain health plan expenses) paid during the above period or any calendar quarter in which operations were suspended.

What are qualified wages?

If an employer averaged 100 (for 2020 credit, 500 for 2021 credit) or fewer full-time employees during 2019, qualified wages are those wages, including health care costs, (up to $10,000 per employee) paid to any employee during the period operations were suspended or the period of the decline in gross receipts, regardless of whether or not its employees are providing services.
If an employer averaged more than 100 (for 2020 credit, 500 for 2021 credit) full-time employees during 2019, qualified wages are generally those wages, including certain health care costs, (up to $10,000 per employee) paid to employees that are not providing services because operations were suspended or due to the decline in gross receipts. These employers can only count wages up to the amount that the employee would have been paid for working an equivalent duration during the 30 days immediately preceding the period of economic hardship.
Restaurant Revitalization Fund
The Restaurant Revitalization Fund is launching today! This program will provide restaurants with funding equal to their pandemic-related revenue loss up to $10 million per business and no more than $5 million per physical location. This funding is a GRANT, not a loan. Recipients are not required to repay the funding as long as funds are used for eligible uses no later than March 11, 2023.

Applications open on Monday, May 3, 2021, at noon ET. See How to apply for more detail.
A sample application is available here. Guidance from the department is available here.
Qualifying businesses are:
Restaurants
Food stands, food trucks, food carts
Caterers
Bars, saloons, lounges, taverns
Snack and nonalcoholic beverage bars
Bakeries (onsite sales sales of food and beverage to the public comprise at least 33% of gross receipts)
Brewpubs, tasting rooms, taprooms (onsite sales sales of food and beverage to the public comprise at least 33% of gross receipts)
Breweries and/or microbreweries (onsite sales sales of food and beverage to the public comprise at least 33% of gross receipts)
Wineries and distilleries (onsite sales sales of food and beverage to the public comprise at least 33% of gross receipts)
Inns (onsite sales of food and beverage to the public comprise at least 33% of gross receipts)
Licensed facilities or premises of a beverage alcohol producer where the public may taste, sample, or purchase products
FFCRA Act
The Families First Coronavirus Response Act included a number of provisions related to paid family/medical leave and paid sick leave, including a tax credit for employers intended to fully cover the cost of leave: The effective date of this legislation is April 1st, 2020 and will remain in effect until December 31, 2020. The second of three bills passed by Congress in response to COVID-19 creates emergency paid sick leave along with paid family leave for individuals impacted by coronavirus/COVID-19. Employers can claim a 100 percent refundable tax credit against payroll taxes for employers and sole proprietors.
Click here for a quick overview of the FFCRA
View this Document for more information on Paid Sick Leave/Medical Leave/Family Leave
Read the FAQ on the FFCRA Act here.
The Department of Labor recorded a webinar on the FFCRA. Please continue to frequent this web address regularly as the Department will continue to update the compliance assistance information available there.
General COVID-19 Updates
Alcohol Sales: Take Out, Curbside and Delivery Orders Allowed
Continues with State of Emergency (Currently set to end April 15th)
Curbside and to go alcohol is now a broader issue, with a bill (H. 313) moving through the legislature that may allow continued to go sales following the end of the Governor's State of Emergency. VRGA is monitoring the bill and will keep members informed as it moves and changes. Below is guidance based on current to go regulations.
Per a directive from Governor Phil Scott, a temporary allowance has been made for take out, curbside and delivery sales of spirits, spirit based, malt and vinous beverages given the following:
1st class licensees are hereby authorized to allow for take-out, curbside pickup and delivery of beverage alcohol, including spirit-based drinks and malt and vinous product accompanying food orders for off premise consumption.
2nd class licensees shall be authorized to allow for delivery and curbside pickup of un-opened containers of spirits, spirit-based product and malt and vinous product.
If you are considering offering this, we strongly encourage you to contact your Insurance agent to discuss your current Liquor Liability coverage.
The permissible hours for delivery shall be from 10:00 a.m. until 11:00 p.m. For deliveries, the licensee shall be able to travel from town to town or from place to place carrying orders for delivery of any alcohol product they are licensed to sell and authorized to deliver hereunder without a delivery permit, provided the following conditions are met:
The person making the delivery is at least 18 years old and is certified to sell or
serve alcohol by the Board.
All deliveries shall be in person to a physical building or residence.
Licensees shall maintain an inspectable log of all deliveries made and such log shall
at a minimum include:



Name of recipient and physical address in Vermont to where the product was
delivered;
How ID was verified;
A signature of recipient at least twenty-one (21) years of age;
Complete description of the product and quantity delivered;
Time of delivery;
The name of the employee making the delivery
Labor Issues
CURRENT LABOR LAW: Labor law during COVID-19 has rapidly changed and adapted to the situations that have arisen. Check the Vermont Department of Labor website for consistently up to date information. For specific issues you cannot find answers to, reach out to the VRGA team so we can assist. Breakdowns of major changes/additions to the labor law system are below.
Refusal to Return to Work
The Department of Labor reminds unemployment claimants who have been placed on temporary layoff or furlough related to COVID-19 that they must return to work if called back by their employer. Refusal to return to work, when being offered the normal rate of pay and number of hours per week, may result in the termination of unemployment benefits and the need to repay certain benefits.
If your employees have refused to return to work and are instead continuing to draw unemployment benefits, you must report this to the state Department of Labor. Employers should complete the online refusal to work form.
Work Search Requirement Waiver
At his 4/27 Press Conference, Governor Scott announced that the Work Search Requirement waiver would be expiring on May 9th, 2021. At that time the work search requirement will be a requirement for all persons receiving standard unemployment payments. Valid work search is proof of three attempts at employment per week, applicants must provide proof of work outreach each week when submitting work search information to continue to qualify for unemployment. The department has emphasized that there will still be protections in place for those facing unemployment due to COVID-19, with a self certification by applicants allowing them to skip the work search requirement if they attest to a COVID qualifying exemption.
Pandemic Emergency Unemployment Compensation
Pandemic Emergency Unemployment Compensation (PEUC) extends regular unemployment benefits for an additional 13 weeks to claimants who have exhausted their 26 weeks of benefits on July 1,2019 or anytime after. If you have exhausted your unemployment benefits any time after July 1, 2019, you may be eligible for PEUC. This program was scheduled to end on March 14th, 2021 after an extension. It has now been extended again through September 4th, 2021, with an extension of the timeline for benefits to a maximum of 53 weeks of unemployment compensation.
Pandemic Unemployment Claims (PUC)
The Department of Labor has announced that the Pandemic Unemployment Assistance (PUA) program (part of the federal CARES Act) is now available to accept unemployment claims from those not eligible for the regular Unemployment Insurance program (self-employed, sole proprietors, independent contractors).
More information on the PUA application process and eligibility
Pandemic Unemployment Assistance info
Watch this Vermont Pandemic Unemployment Assistance (PUA) Demo: How to fill out the form

Resources
Keeping Employees SafeLet's Grow Kids Childcare Options
FDA Daily UpdatesThe Wage and Hour Division FAQ

Attorney General's CAP Small Business HelpGuidance for Preparing the Workplace

OSHA COVID 19 Prevention and InformationAgricultural Related COVID-19 Resources