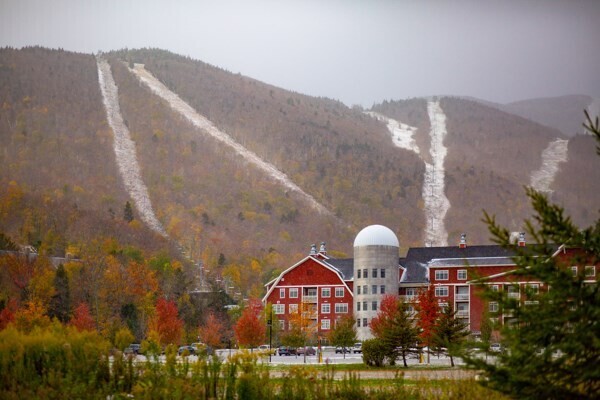 Event Details
Join us at Sugarbush Resort for an evening of association business, board elections, networking, food and drink pairings (Presented by Farrell Distributing), and more the evening prior to the 30th Annual Scholarship Golf Tournament.
Where: Sugarbush Resort
When: Tuesday, September 29th, 5PM
SCHEDULE OF EVENTS
5:00pm: Cocktails and Passed Hors D'Oeuvres
5:45pm: Brief Association Remarks
5:50pm: Farrell Distributing Presents: Vermont Specialty Food and Drink Pairings
6:15pm: Dinner Served
6:30pm: Annual Meeting
6:45pm: Annual Meeting Adjourns
7:00pm: After Dinner Drinks - sponsored by Altria/Vermont Cider Company
Hosted on the Gatehouse Lodge Patio
Thank you to our sponsors: H.P. Hood, Paul Frank + Collins P.C., Vermont Cider Company and Altria!

Accommodations: Guests can mention the VRGA Scholarship Golf Tournament to receive preferred rates at Sugarbush Resort. Booking MUST be for two or more nights.
Your 2021 VRGA Board Nominees

Mark Bouchett, Owner, Homeport (Burlington)
I am currently co-owner of Homeport, a general merchandise retail store on Church Street in Burlington, VT. I have a BS in Software development from Champlain College. I have worked in retail stores all of my life. I worked as a manager for Pier 1 in Canada and the US Throughout the 1980s after which I opened a Bookstore in Montreal, Quebec. In 1992 I moved with my wife and two small children to work in the family business in Burlington. I began by managing our gourmet food shop at 86 Church Street (Gourmet Food Exchange) until we sold the business after which I came to work at our Pier 1 franchise at 52 Church. In 2004 we gave up our franchise and re-branded our store under the name Homeport. Simultaneously we opened a 45,000 sqft furniture store on Shelburne Rd (Ashley Furniture Homestore); I left Homeport to manage this store. Our store was recognized nationally as a leader in customer service. As the housing crisis gripped the country a store of this size became increasingly difficult to sustain and we decided to close the store in 2008. I came back after this to work at Homeport where I have been ever since. I am involved in all aspects of the business and work in the store on a daily basis. In 2020 I became part owner in Homeport as a partner with my parents who also still work in the store daily. In addition to my role at Homeport I also currently serve as a commissioner on the Church Street Marketplace Commission and as a board member of the Queen City Police Foundation.
Patricia Brown, Project Manager, Stewart's Shops
Tricia Brown was born in Albany, NY, and has spent most of her life in the NYS Capital Region. She graduated from RPI with a degree in Industrial Engineering. She worked for GM and GE early in her career in engineering, inventory control, and contract/project management. She then spent 25 years working for St. Peter's Health Partners, doing a variety of work including construction project management, governance restructuring and staffing various boards. She supported the legal, regulatory and integration efforts for numerous mergers, and led the Performance Improvement/LEAN initiative across the company (both from the clinical and administrative perspective). Tricia is now applying her skills in the convenience store industry. She has been with Stewart's Shops for two years, working on special projects with the main goal to streamline processes. She also follows the regulatory climate but has primarily worked on coordinating the COVID-19 efforts over the past year and half!
Randy Morley, Store Manager, Kinney Drugs
I was born and raised in the Northeast Kingdom of Vermont in a small town where everybody knows your name. Growing up in a small rural community instilled a sense of community that has stuck with me. I moved out of state in 2003 to complete my B.S. degree and gained experience with a wider range of people and places, but the call of home has always brought me back. When I landed my first job with Kinney Drugs, it was a great fit because they are a business that emphasized community involvement and work hard to foster partnerships with other local businesses which appealed to me. I have been with Kinney drugs for twenty-one years now and on my journey from cashier to managing multiple stores and working as a member of a corporate policy review panel, I have gained a lot of experience and knowledge about the retail landscape and the challenges faced by retailers in the state of Vermont. I would like to utilize my experience and passion for community to assist other businesses around the state to thrive in their communities.
Meeting Sponsorship Opportunities Available!
Market your services to fellow VRGA members by having your business featured as a Meeting Sponsor. Please reach out directly to Brady for sponsorships at brady@vtrga.org. The benefits of this sponsorship include:
$1000 Dinner Sponsorship
Current Sponsors: H.P. Hood
Company mention on Eventbrite registration page
Company mention on promotional materials on social media
Logo on agenda for print and digital distribution
Logo on main sponsor sign
Verbal recognition during remarks
Five minutes speaking time to all in attendance
$500 Supporting Sponsorship
Current Sponsors: Paul Frank + Collins P.C.
Company mention on Eventbrite registration page
Company mention on promotional materials on social media
Logo on agenda for print and digital distribution
Logo on main sponsor sign
Verbal recognition during remarks
Two minutes speaking time to all in attendance
Want to stay the night before or after?
We've partnered with Sugarbush Resort to provide a discount on room rates for the Sugarbush Inn and the Claybrook Hotel, both on property. Follow this link to book online or call Sugarbush and mention the VRGA Scholarship Golf Tournament. Minimum booking is two nights to receive a discounted rate.
Next Blog Post
Vanguard Renewables' Farm Powered® Anaerobic Digesters: Working with Farms, Businesses, and Citizens toward a Sustainable Vermont