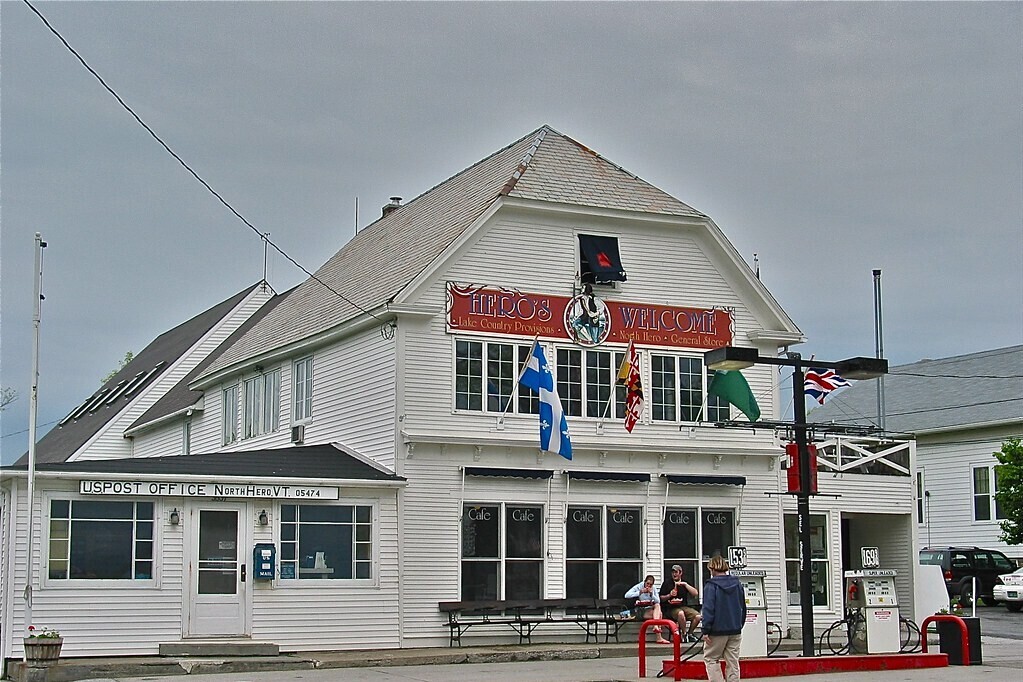 There's a time-honored debate going on in Vermont, and it may never end… Walk in to any general store, in any town in Vermont, and ask: "Which country store is the oldest?". You'll be met with a plethora of responses. Each town is sure that their town's store is the oldest and the best. So which is it officially? Who does the Vermont Retail and Grocers Association recognize? Good try, but we're not about to upset 99.99% of the state by picking a "winner". Vermonters are known for pragmatism and we're sticking to it on this one.
This isn't a story about the oldest store in the state, it's a story about some of the oldest stores, and the ways Vermonters have come together to ensure they survive. So hop in our time machine and buckle up, you're in for a history lesson!
You're looking for history? How's 120 years of continuous operation sound! That's right, Willey's Store in Greensboro has been around long enough for your parents and grandparents to have both shopped there as kids. The current owner is Robert Willey Hurst, and he's the fifth generation of Willey family to own and operate the store. His Great-Great-Grandfather Burt Willey opened the doors in 1900, and they've been going strong ever since.
You may be thinking a lot has changed since 1900, and you'd be right. Over time the store has evolved in many ways. In the beginning, it was primarily a one and done shop for area farmers. Copper wire, pipes, cornmeal, cookware and beyond, anything you'd need to keep the farm family supplied and operations running smoothly.
As the population of Greensboro, and Vermont, shifted so too did Willeys. While you'll still find a wide variety of products from hardware to hand bags, the focus has moved from farming supplies to consumer goods, food, and specialty local products. You're apt to find some of your favorite Vermont brands on the shelves at Willies, and customers come from all over the state and New England to purchase. On an average day you may find someone from Connecticut, Rhode Island, or simply just down the road shopping next to you.
No matter what changes happen to their customer base, one thing will always remain the same at Willeys: personal service, with a smile, and a wonderful shopping experience.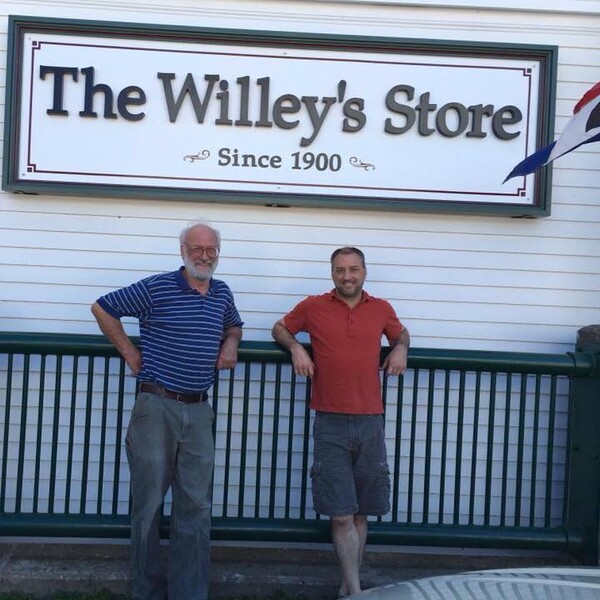 Robert Willey Hurst (right) in front of Willey's Store
1807 was the year that this iconic country store first opened its doors. The Blackman family ran it then, floating themselves across Lake Champlain and over to Canada when they needed new products. At the time, with no airplanes or cars, supplies flowed across the ocean and down the St. Lawrence to Montreal, where Vermonters would make the trip in order to secure fine european goods for their stores. Things have changed just a bit since then, what with daily deliveries and all that... What hasn't changed though? The love that the town of Jericho has for their country store!
Often referred to as the best in the state by town residents, the store has been through a few hands since the Blackman family. The Desso's are perhaps the most famous, with Gerry and Lil Desso owning the store into the late 1990's and packing it with so many different products that customers would say "if Desso's doesn't have it, you didn't need it". In fact, the wide assortment of childrens items and toys at Desso's, and the owners themselves, inspired a children's story book called "The Storekeeper" which was published by Jericho local Tracey Campbell Pearson.
In the days since the Desso's, things have changed a lot for country stores. Stores are finding it more and more difficult to be everything for everyone, while competing with local additions like Dollar General and other discount stores.
That leads us to the most recent stewards of Jericho's main merchant. The St. Amour family took over in 2002, changing the name to "Jericho Center Country Store" and retooling the store offerings with a focus on food and to go meals. While you'll still find all the things a country store should offer (maple, clothing, staple groceries like cereal, pancake mix, etc), the real star of the show these days is the deli! Stop in for an amazing sandwich made to order, fries hand punched on site, or one of their world famous maple creemees in the summer. In the tradition of all those who came before them, they'll be sure to treat you right.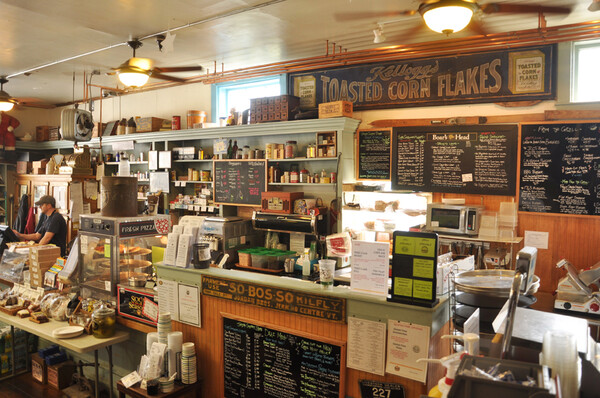 Interior, Jericho Center Country Store
Originally, North Hero, South Hero and Grand Isle were granted to Ethan Allen, Samuel Herrick and 363 other Revolutionary War veterans as a single town known as Two Heroes. Over time, due to population changes and the drawing of legislative districts, North and South Hero were separated with Grand Isle placed squarely in the middle. These days, Vermonters tend to refer to the whole package of Grand Isle County towns as "the Islands".
If you've ever gone for a drive, flight, sail, kayak, sea-doo, or ice skate in the islands, you've most likely made your way to Hero's Welcome. With a summer dock, this local legend offers "any way you come" access. That means sea-plane, sail boat, car, bike or foot will all get you to the door.
That's not the only special thing about Hero's Welcome though. The century-old building was originally built by John Tudhope in 1899, making the structures on the property well over 100 years old. The Tudhope family operated the store for ninety years, until eventually giving up the business and allowing the property to fall into minor disrepair for a few years. Shortly after that closure, the current owners Robert and Beverly Camp purchased the property, fixed up the structures and Hero's Welcome was born!
While it hasn't been continuously operating since 1899 due to that short stretch of closure, we think that the Camp's have kept alive the spirit of the original Tudhope's General Store, which more than makes up for the brief pause in operational status. Walking into Hero's Welcome today you'll find a smile, a warm greeting, and anything you could ever need to purchase, along with a wonderful deli. Oh, and don't forget to check out the live webcam looking out from the front of the store if you're ever wondering about conditions on the lake!

Hero's Welcome
Pierce's store is another tale of rejuvenation, this time after a slightly longer hiatus. A store in this location began operating in 1865. The owners of that store are lost to time, but the Pierce family took it over in about 1918 and owned it right up until the late 1990's. Under the Pierce family the store had become a community hub, as famous as a place to chat with neighbors as it was for its penny candy and groceries.. Marjorie Pierce, last of the Pierce family, closed the doors in 1993 when she was unable to continue operating the store on her own. The store, however, did remain in the hands of the Pierce family.
Marjorie passed away in 2001, bequeathing the store to the Preservation Trust of Vermont. Her final wish was to have the store operationational again and to draw the community together. It took a few years, but eventually in 2008 the Preservation Trust was able to select a new group of owners, who embody the true spirit of Marjorie and the Pierce family, to continue the Pierce legacy. The residents of Shrewsbury!
When the preservation trust sought out a new owner for the store, the town of shrewsbury came together to form a cooperative with the goal of revitalizing the store and making it a community hub once again. Well, we can tell you first hand they've done that and then some! These days the store is running full tilt once more, with all the groceries, baked goods and other items that residents of Shrewsbury could need. Pierce's regularly hosts community events, takes special orders from residents, and focuses on stocking Vermont products as much as possible.
With a primarily volunteer staff, the heart of Shrewsbury is beating loud and proud at Pierce's store. Town residents donating their time to ensure that everyone has a place to chat, shop, and get to know each other; what could be more Vermont than that?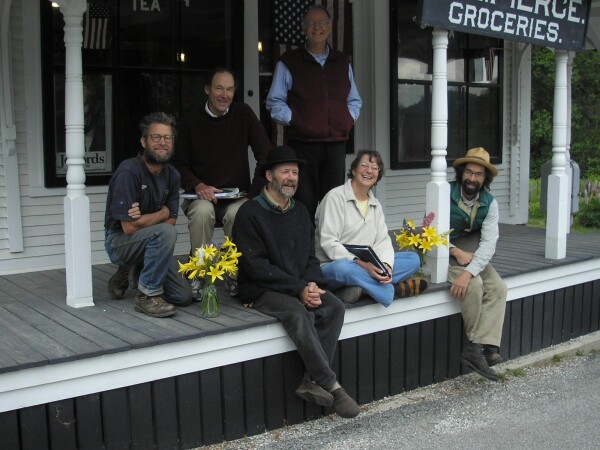 The original Cooperative crew at Pierce's Store
Next Blog Post
It's a beautiful Saturday and the mountains are a tapestry as foliage hits its peak. This is it, the perfect day to explore Vermont! Follow the route below and you're in for a wild ride; into valleys,…