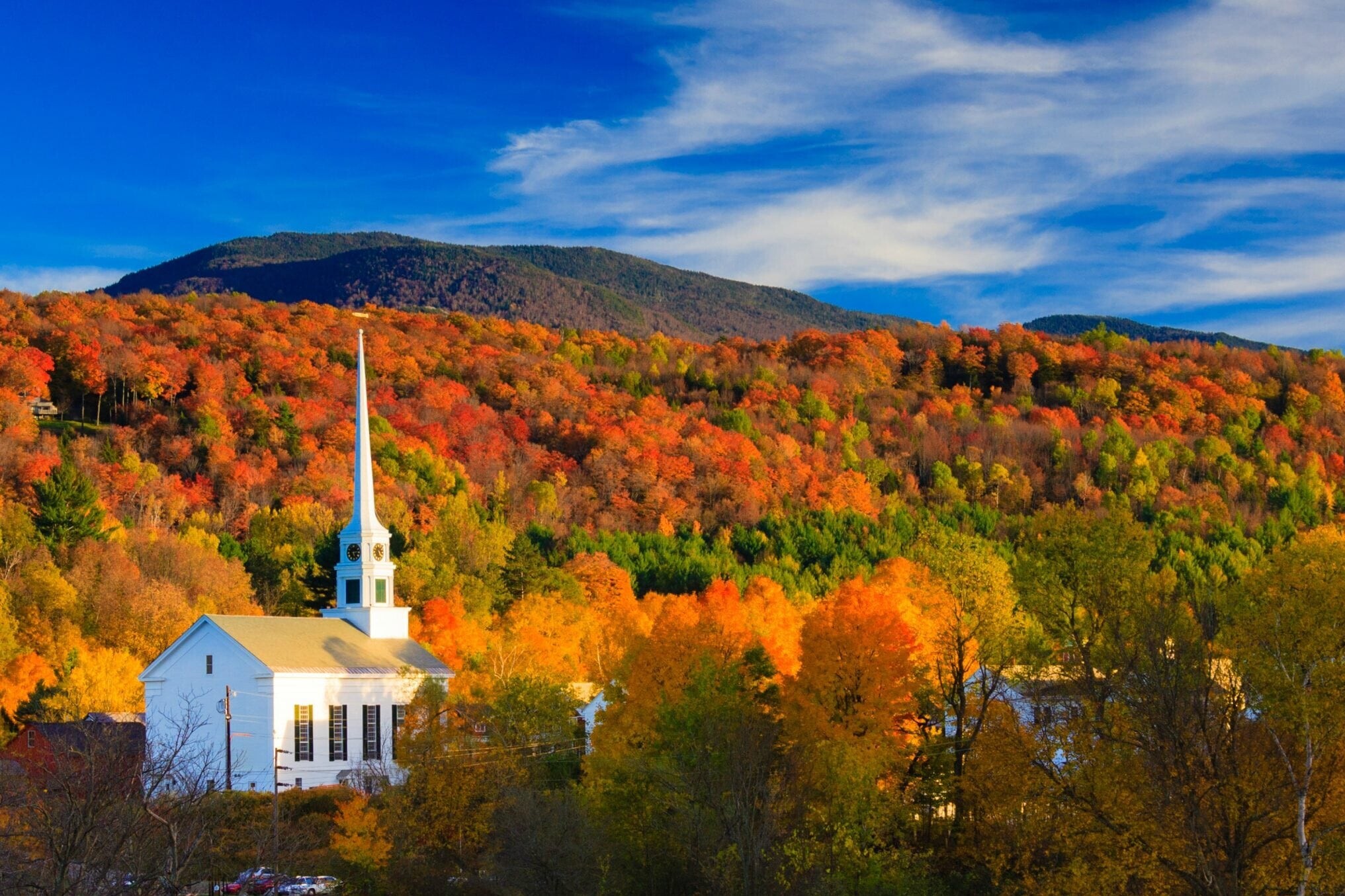 Vermont is known the world over for the majesty of its natural spaces. As the temperature creeps down and the mornings become crisper, the leaves start to change and present a stunning rainbow of colors across the state. As you're exploring, there are some secret and not so secret areas we'd recommend, and within or nearby them all are some of Vermont's most storied businesses: Independent Country Stores! As part of 2021's Independent Country Store Month, we invite you to our state to travel, view its natural beauty, and patronize it's historic businesses. You'll find some of the options below, so start planning your trip now!

Stowe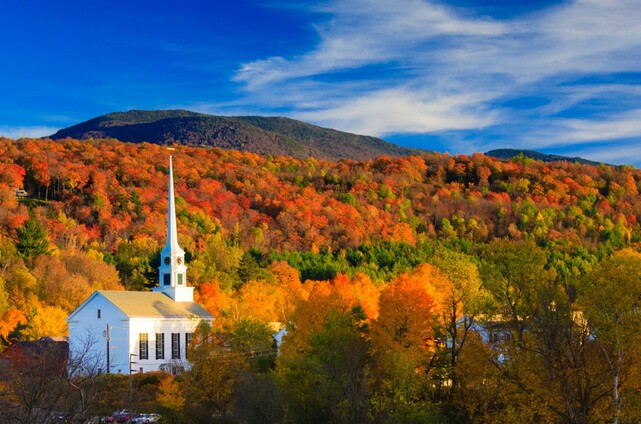 Stowe isn't just home base for some of the best skiing on the east coast, it's also home to several beautiful lakes and waterfalls that are surrounded by stunning scenery. Smugglers Notch is a twisting, turning gap between mountains that was used to run booze during prohibition due to its remote nature. These days, it's your best chance to see some of the most stunning vistas the state has to offer.
In fact, we'd be remiss if we didn't send you up to Sterling Pond. This popular "hidden gem" is located on the long trail, just off the road through the notch. A one mile walk (each way) takes you from the road to a breathtaking pond that sits on top of the mountains and is surrounded by stunning foliage.
If you're spending the day up in the notch, there's nothing better than a Vermont product picnic! Cheese, crackers, cured meats, jelly, jam, a sub or two, you'll find all that and more at Stowe Mercantile. Carrying producers from all of the state, they even have their own new in-house brand, Stowe Mercantile Kitchen, that's producing some to die for products (pair the salted crackers with some Fat Toad Farm Caramel, you can thank us later). Located conveniently right on the main drag in downtown Stowe, you'll be able to stock up with everything you need for a day in the clouds before you leave town.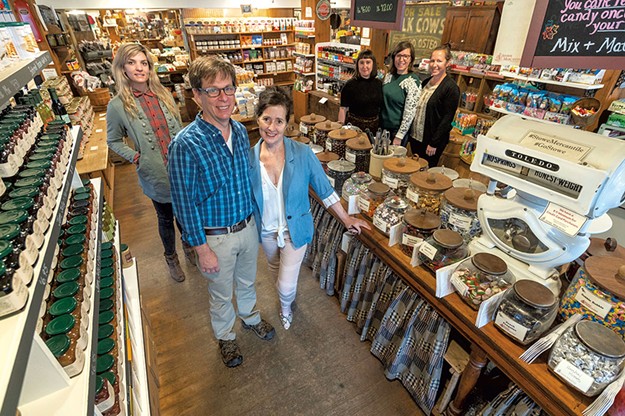 Burke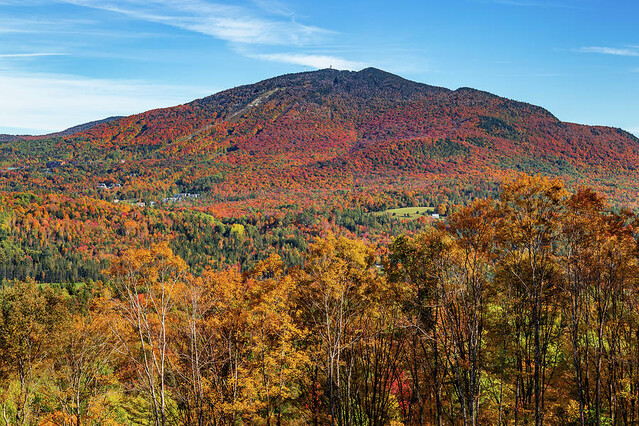 Deep in the heart of the Northeast Kingdom, Burke is a tiny town with a huge amount of natural wonder surrounding it. If you're looking for some gnarly offroading, the Kingdom Trails are where you want to be and that means you're headed to Burke. While the Kingdom Trails offer over 85 miles of double and single track riding on private land throughout the NEK, some of the best views are on the trails in East Burke.
Burke Mountain Resort is another tried and true option for the offroad aficionado who wants a little adrenaline with their changing colors. Dubbed "the last little corner of Vermont", this resort is world renowned for its ski trails but is just as amazing during the off season. The Burke Bike Park on property has tons of cross country and downhill trails that are groomed and will take you through the vast beauty of the Northeast Kingdom. You'll spin through open fields, over rivers and streams, down sheer cliffs, and more. You don't have to be a resort guest to ride these trails, so give them a call and set aside some time to explore.
We recommend starting out your day the way the locals do: with coffee and a world famous homemade breakfast sandwich from East Burke Market. Open early and closing late, you'll be greeted with a smile and an invitation to chat when you visit this vibrant general store. 24/7 gas pumps ensure that you're always fueled up and ready to hit the dirt, while their 9pm closing time makes them the best (and tastiest) option when you come back after a long day up in the mountains.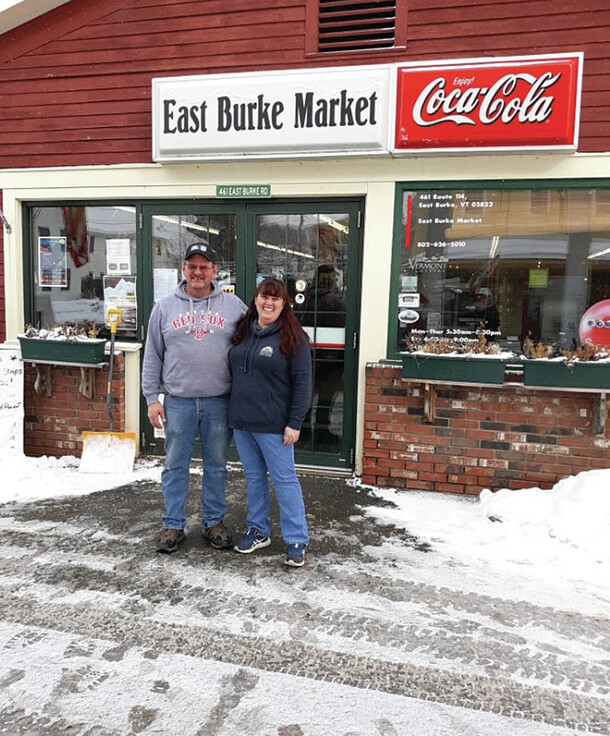 Montpelier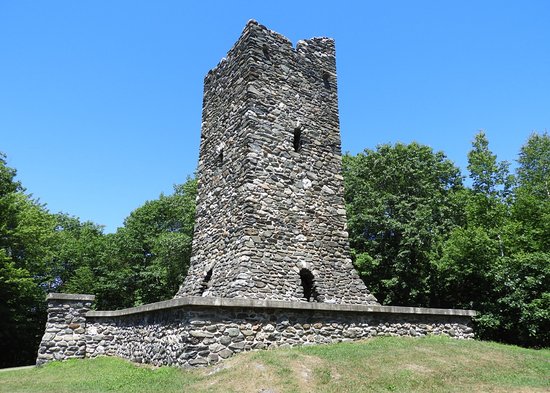 The capital of Vermont is home to more than just the golden dome. You'll find a bevy of beautiful colors scattered throughout the hills around town. Hubbard Park offers walking trails and picnic areas that will satisfy the whole family. For an expansive and breathtaking view of the capitol, that you won't find anywhere else, search for "The Tower" inside the park. One of the highest accessible points in the surrounding area, it offers a great view of the capitol and surrounding foliage. Construction began in 1915 and was completed in 1930. It's in great shape for 90!
During COVID, the capitol complex has been closed to visitors but generally you can pop in and get a rare peek at what statewide governance looks like. While you're in town, stop at the Vermont Historical Society Museum right next to the capitol building. You'll get a slice of life from each era in Vermont's history. The museum is open and accepting visitors, so don't pass it by.
Leaf season is a perfect excuse for a little drive, so we suggest heading just a bit outside town to C.P. Dudley Store in East Montpelier. The store is an icon in the area and is almost as old as the town itself. You'll find tons of local products, Vermont produced foods, and a top tier deli that can satisfy your stomach rumblings after (or before) a long day of walking the trails. If you're lucky, they may have a slice or two of their homemade pies for you to enjoy!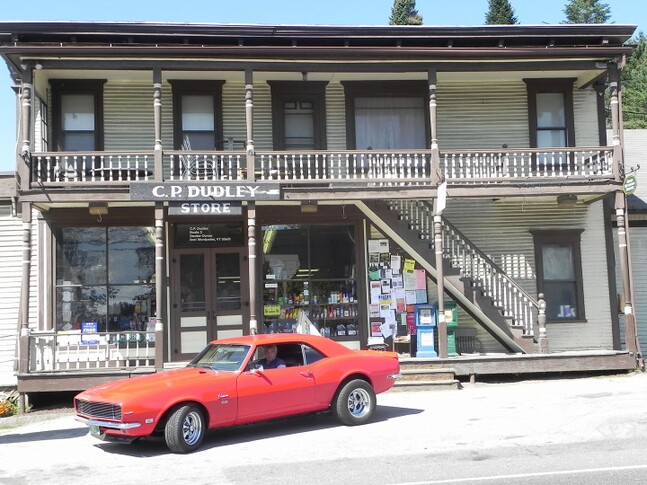 Next Blog Post
Like many country stores in Vermont, Dan & Whit's is a community hub. Operating in Norwich for more than 150 years, Dan & Whit's is where neighbors pick up necessities – Dan & Whit's classic motto is "If…