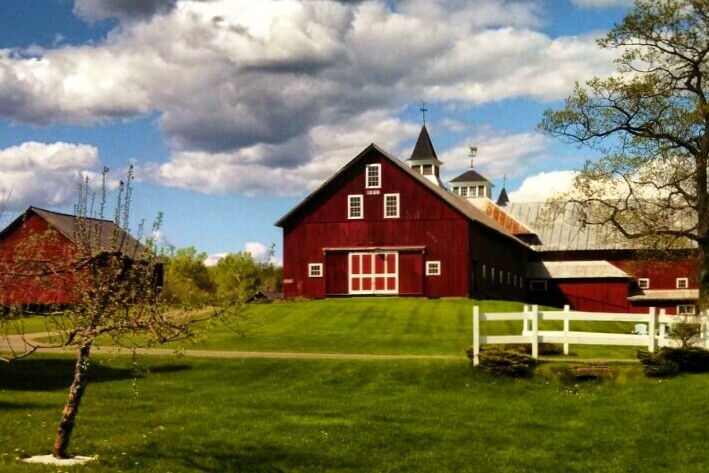 Begin in Craftsbury
We start the journey north in Craftsbury. A charming valley town, historically it's been known for its rich farmland. Craftsbury is where the Black River takes its shape, which led to a number of mills in the early years of the town.
You're not coming to farm though, you're in town to see the Craftsbury General Store! Affectionately referred to as the "Genny" by locals, the CGS is more than an average stop and shop. Every Wednesday they offer a series of "Globe Trotting Dinners" spanning different cuisines, and on Sundays is the world famous "Sunday Suppers". While you may not make it for the meals, you can still take in the beauty of the historic building, and grab a few essentials for the rest of the trip!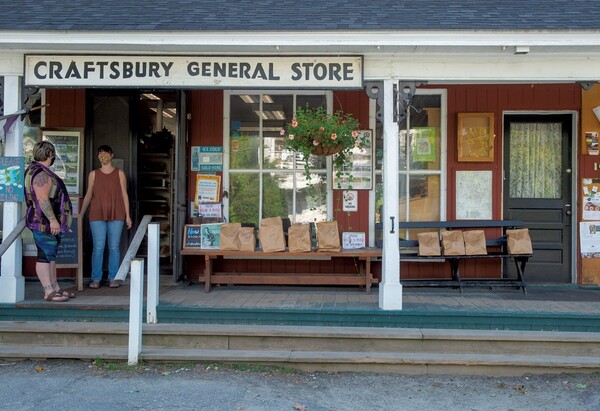 Craftsbury General Store
On to Irasburg
Every town in Vermont has a unique past, and this one involves quite a bit of illicit activity. In the early days of Irasburg, they were renowned for their pearl ash and salts. In the early 1800's there was a trade embargo in place with Canada, yet somehow large quantities of pearl ash and salts managed to make it across the border regularly… We're not saying, but we're just saying… And the rest of Vermont was too! Irasburg had a reputation for smuggling throughout the 1800's.
These days we're drawn to Ray's Market! You won't have to smuggle anything out, but you'll be glad you stopped in. Ray's claim to fame is their meat: they boldly proclaim "Fresh meat is our business" as their slogan. When you shop here, you're not just getting groceries, you're getting experts. We highly recommend asking for some cooking advice when you pick up your steak or burgers. They'll be happy to offer some tips, tricks and seasoning suggestions.
Once you're all set for your lunch time BBQ, hop in the car and head up to Lowell.

Rays Market
Love Lowell
You almost never want to hear "we found asbestos". The rare case of excitement following that statement was in Lowell, in 1824. Back then, the dangers were unknown and the wonderful new material was used in everything and anything it could be. Lowell had just struck it big, eventually utilizing the mine to produce 96% of the asbestos produced in the US. Unsurprisingly, attitudes towards asbestos changed over time and the mine was closed in 1993.
While the mine is interesting, what we love about Lowell is the Lowell General Store! It's a classic "everything you could ever want" affair, with fresh meat and veggies, pizzas by request, canned goods, and cooler drinks. Beyond the snacks, you should stop in because it's the towns meeting post! You can catch up on the weekly happenings, talk with locals, and prep for your day all at once. You'll feel that you're in the heart of town as you step through the door, and you'll be right.

Ken Char­bon­neau of the Lowell General Store
Up By the Border
You're probably familiar with Jay, Vermont because of the truly massive Jay Peak Resort. WIth a wonderful hotel, indoor waterpark, golf course, and more, Jay Peak draws in visitors from all over the world. It's definitely worth checking out if you're in the area, and who knows you may want to stay awhile.
While Jay Peak is always fun, the real reason we've brought you up to the border is the Jay Country Store. The Jay Country Store is located at the base of Jay Peak, in the center of Jay Vermont. It's hard to miss, given the beautiful cabin architecture and the huge wooden carvings near the entrance! The store offers a wide variety of specialty items including Vermont Maple Syrup, Jay Peak Souvenirs, Vermont made products, specialty beer & wine, and much more!

Jay Country Store
Off to Newport
In the summers, you'll often see sails out on the waters around Newport. Situated right on top of Lake Memphremagog, Newport is a sportsman's paradise. When residents aren't out sailing or fishing, you'll spot skidoos and atvs on snowy trails.
We're drawn to the area for an altogether different reason. The Northeast Kingdom Crafters Emporium! Featuring homemade items from over 70 artisans throughout the state of Vermont, the NEK Crafters Emporium came about through years of networking and mingling at craft fairs. Lacking a year round place to display merchandise, the owner used her connections in the industry to bring together crafters of all types and stripes to retail their products in the Emporium! We think the owner Christine puts it best: "By purchasing an item from this storefront you are supporting a hardworking individual who puts all of their love into their work. They look forward to sharing this with you."

NEK Crafters Emporium
Down to Charleston
Our next stop has us heading back south. We're going down to West Charleston. The town of Charleston was granted on November 10, 1780 by the Vermont Legislature. The town was originally named Navy by the Commodore Abraham Whipple of Rhode Island, but was eventually changed by the Legislature to recognize the Commodores heroic defense of Charleston, South Carolina.
You're going to be stopping at the West Charleston Corner Store, a great little country store with a cool backstory. The current owners have family ties to the store, as their relatives owned it prior to them! It was sold off to another family after the first round of Bowen's, but now it's back in Bowen family hands. Once you've had your fill of the store, maybe check out Clyde River or Echo Lake before heading out of town.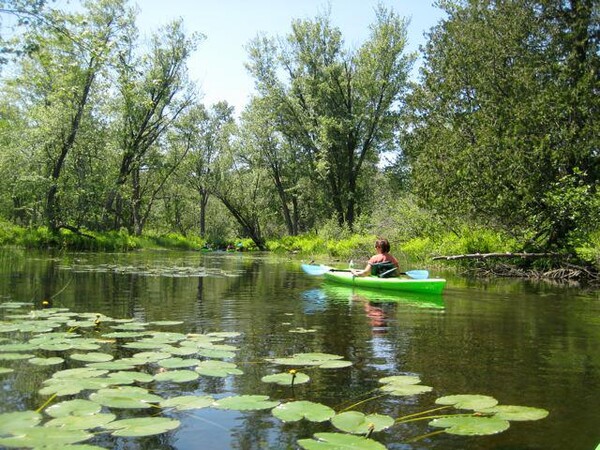 The Clyde River
Wheelock is the next town on the list, but we've got to give honorable mention to a possible addition to your day. While it's a big deviation off to the east, if you're up for it you should absolutely take a ride over to Debanville's General Store and Cafe in Bloomfield! A true Vermont legend, Debanvilles has "a bit of everything". 80+ craft beers, pizza, subs, and bakery items, it's a one stop shop before you hit the woods. And if you're really lucky, you may swing by on a day when riders are in town! Whether that's atv, skidoo, or horse is up to the day... You might want to bring some sugar cubes just in case...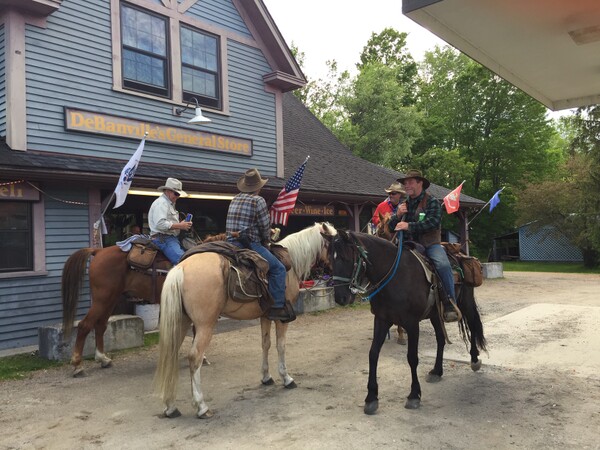 Debanville's welcomes local riders for a refuel
Leaving Charleston is your best chance to get there, as you're headed in the opposite direction otherwise. We hope you check it out! If not, Once you're done with Charleston you'll want to hop on 5a, make a turn onto 16 then take 91 over to Wheelock.

Welcome to Wheelock
Welcome to the home of the Great Vermont Corn Maze! Unparalleled in size and complexity, the maze spans 24 acres on hilly terrain. It takes 2 - 3 hours to complete on average. This is not your mama's corn maze. Bring water, maybe a snack, and a whole lot of positive thinking along for this ride.
Once you've survived the maze (fingers crossed), you can refuel at the Wheelock Village Store. A charming little store with whatever you could need, you'll find hot meals, cold drinks and welcoming owners. Stop and chat a while before moving on to our next destination, Lyndonville.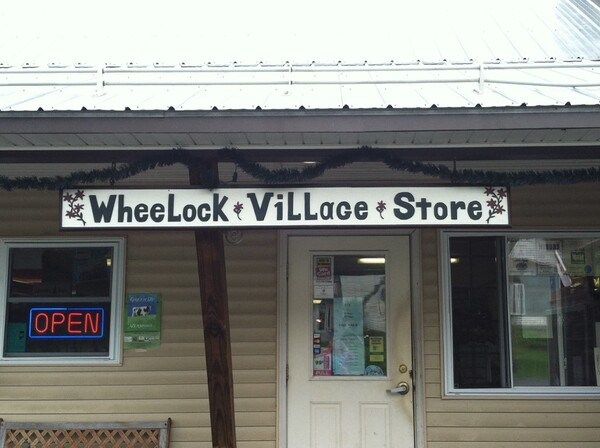 Wheelock Village Store

Look Out For Lyndonville
When Rhode Island proprietors secured the original Lyndon township grant, the area was covered in forests and woodlands with the Passumpsic River providing needed drainage for the flood plain and waterfalls providing power for grist and saw mills. The charter of the town of Lyndon was signed by Governor Thomas Chittenden in 1780. Since those days the town has changed, and grown up, quite a bit, now playing host to the campus of Northern Vermont University-Lyndon.
Many come to the town for the college, but most stay for the people and the atmosphere. One of our favorite contributors to that "atmosphere" is Lyndonville Hardware. A true to the title hardware store with every nut, bolt, wrench, and nail you could ever need. When you walk in the doors, don't be afraid to ask for advice on whatever project you're working on. Whether customer or staff, someone will set you on the right path. You're not just getting hardware here, you're getting assistance and expertise! That's the Vermont way, and Lyndonville Hardware keeps it alive.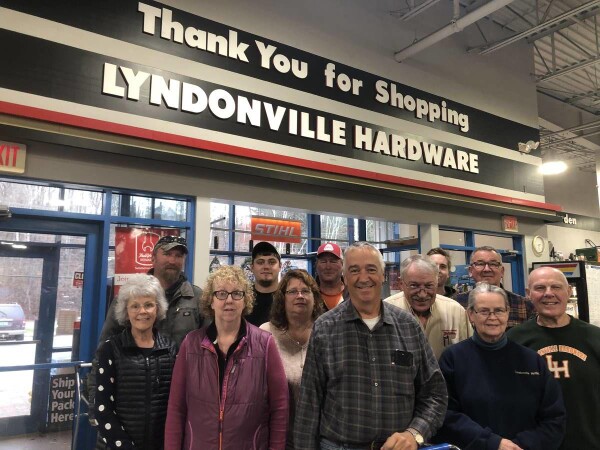 Lyndonville Hardware Owner Brad Gebbie with staff
While recent changeover has placed the store in the hands of a chain, nothing has really changed and the former owner Brad Gebbie still spends his days wandering the aisles. Track him down for a chat if you're stopping in.
As you hop back on the road, we're nearing the end of our journey. Head south to St. Johnsbury, you're in for a treat.
Find Your Way to St. J.
St. Johnsbury is one of the larger towns in Vermont but it maintains that unique sense of community the NEK is famous for. While you're in town, don't miss the Fairbanks Museum & Planetarium. The Fairbanks Museum and Planetarium is a combination natural science museum, history museum, and planetarium, founded in 1890 by businessman, politician, naturalist, and collector Franklin Fairbanks.
Once you've explored the museum, there's one spot you absolutely have to make it to. Caplan's Army Store, an institution in St. J. Caplan's, has offered Vermont quality goods for over 100 years. Three generations of the Caplan family have run the store, which opened in 1922. In a testament to the family nature of the business, manager Gary Ely has worked for the store since 1953! If he's in when you stop by, ask him for some store history. He's always happy to oblige.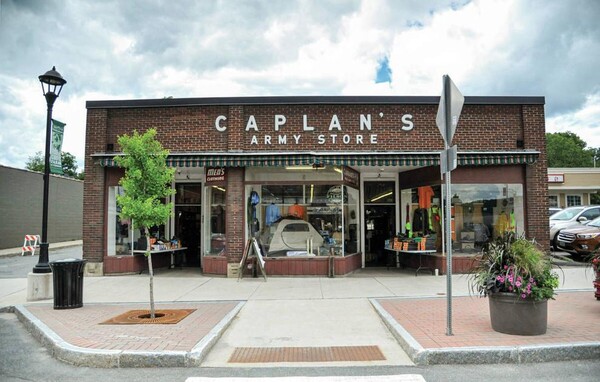 Caplan's Army Store
Sadly, the store's legacy is coming to an end. The doors will close on December 31st, 2020 for the last time. We suggest stopping in while you can.

Last Stop: Danville
As you head further south and out of the Northeast Kingdom, we've got one more stop for you on the way back to wherever you came from. Marty's 1st Stop in Danville is located right on Route 2, which takes you back across the state all the way to Burlington.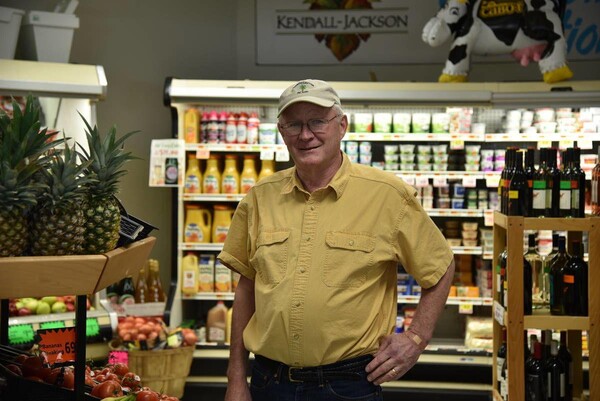 Martin Beattie, Founder of Marty's 1st Stop
Marty's started as a small convenience store more than thirty years ago, but over time expansions have added a deli, grocery aisles, an assortment of wines, and more. Even as it has grown, Owner Marty Beattie has ensured that Marty's 1st Stop maintains a focus on customer service and community. We recommend stopping in for a quick chat, a superb sub, and some snacks for your drive back home. You won't regret it.
Next Blog Post
Taking a trip from Manchester to Peru may sound like a long global trek, but here in Vermont we can get it done in a day with some fun stops along the way! Each of the towns below have unique offerings…