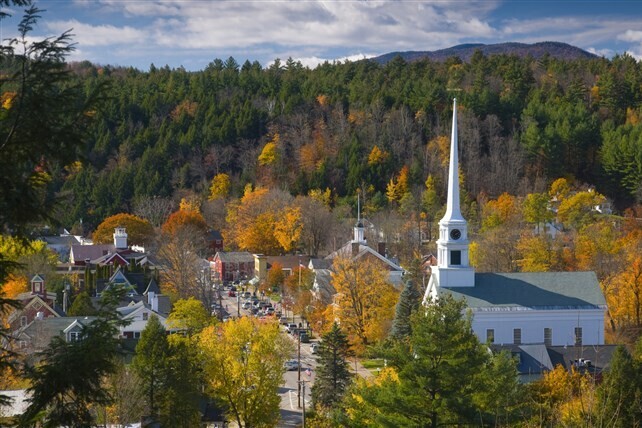 It's a beautiful Saturday and the mountains are a tapestry as foliage hits its peak. This is it, the perfect day to explore Vermont! Follow the route below and you're in for a wild ride; into valleys, across mountains, over rivers, and through the doors of some of the most fabled places in Vermont!
Start in Stowe
Known for the various ski slopes (and resorts) dotting the mountainsides, Stowe is a mix of old and new. In the 1920's, bootleggers would weave their way through the Notch road with smuggled canadian whiskey. These days you're more likely to see a vacationing family than a booze trafficker, but it's an edge-of-your-seat drive with some stellar hikes.
Once you've explored the notch, head back down into town proper and make a stop at Stowe Mercantile, A great country store packed with Vermonty gifts and all the stocking stuffers you'll need as you start your holiday shopping. You can find everything you need and many things you'll want, from specialty foods and beverages to prepared meals, gifts, books and decorative items. Try something from their new Stowe Mercantile Kitchen line while you're in. Head on upstairs and find Truly Trudy's Boutique, a fashion forward affair where you can shop for the season's latest clothing styles. Taking a selfie with the "Stowe Mercantile bear" (below) is a right of passage, so make sure you find him when you stop by.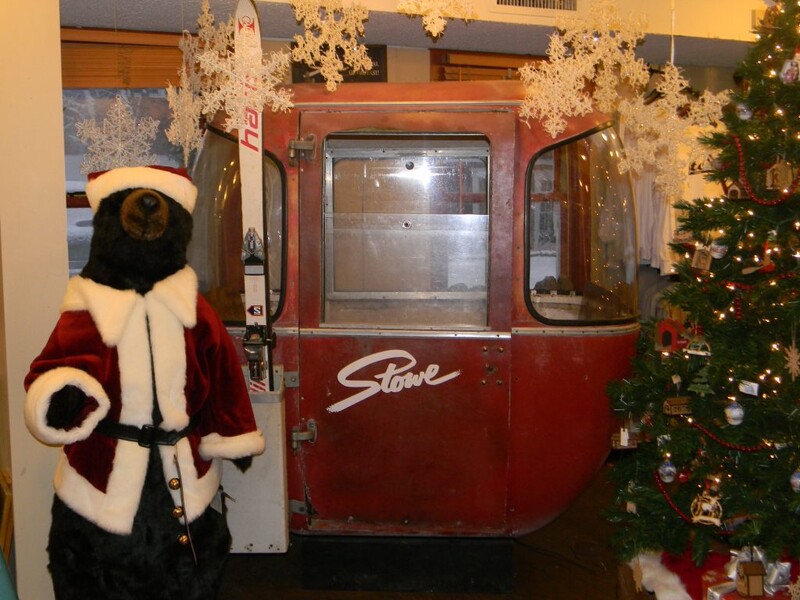 The Stowe Mercantile Bear ready for the holidays
Head South for A Stop At Cold Hollow
Cold Hollow Cider Mill is a Vermont legend! Smack dab in the middle of the drive from Stowe to Waterbury, this is an essential pit stop on your journey. Known far and wide for their hard and traditional cider, cider donuts, and baked apple treats, Cold Hollow is a family friendly mecca for those visiting the state. Don't leave without a world famous "Dreamee", a cider donut creemee sandwich. Considering they've been voted one of the country's four best donuts by Gourmet magazine, they're can't miss. by During the foliage season, Cold Hollow makes over 800 dozen donuts per day!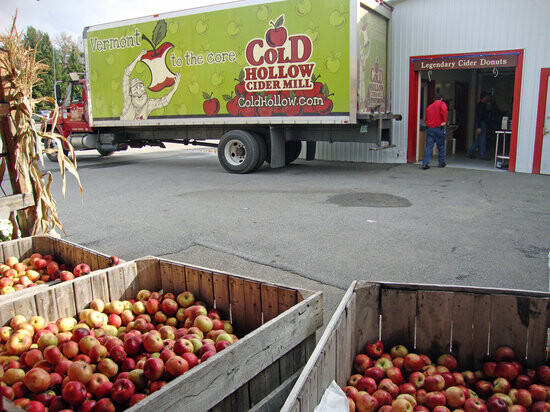 Freshly picked apples headed to the bakery
Continue Down to Waterbury
Continue down the road and you'll reach Waterbury proper in no time. On the way, you'll pass the world famous Ben & Jerry's factory, so you may want to peel off and grab a scoop. Tours are offered seasonally. Waterbury itself is a quaint little town with a packed main street and plenty to do.
We recommend checking out Stowe Street Emporium as your first stop in Waterbury. An emporium is defined as: a large retail store selling a wide variety of merchandise, and boy did they nail it. Larry and Kathy Murphy have been running the shop for 25 years now and the eclectic offerings (clothes, gift items, books, and more) are a testament to the work they've put into offering something interesting for everyone.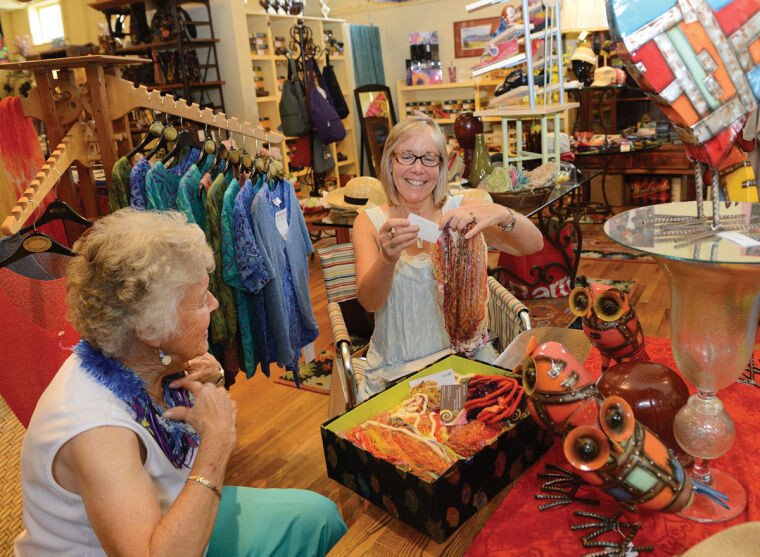 Kathy Murphy of Stowe Street Emporium (right)
Where Do I Eat?
By this point you're probably feeling a little rumbling in the stomach... Waterbury has some outstanding offerings. We highly recommend checking out The Prohibition Pig (or just "The Pig" if you want to sound like a local). A brewery and restaurant, the latin inspired menu offers revelatory takes on traditional staples like the pulled pork sandwich or street tacos.
One Last Stop In Town
Now that you're all fueled up, prep for the season at Waterbury Sports. A locally owned outdoors store with a focus on customer service, they've been supplying Vermonters for over five years now. Of particular note is their lease program, a fantastic way to get back into skiing or snowboarding without the commitment of a large purchase. They'll provide everything you need for the slopes with a buyout option come seasons end.
Hop on Route 100B
You're headed to Waitsfield. Route 100 has been called "Vermont's Main Street", Yankee Magazine voted it as "One of the most scenic drives in New England". It holds up to the hype. As you drive, you'll probably notice "The big rock". Properly known as the "Kenneth H. Ward Swimming Hole" or "Kenneth Ward Park", this popular river recreational area between moretown and middlesex is free and open to the public. Pull over, kick off your shoes, and wade into the water a bit. Waitsfield can wait.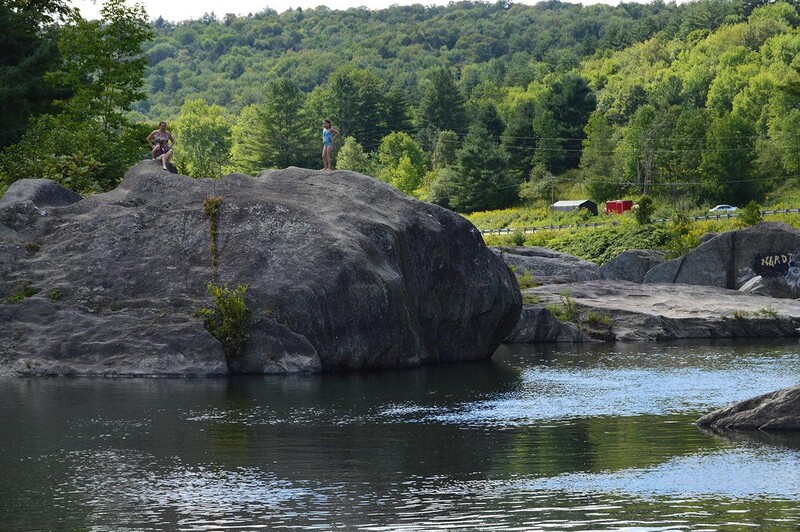 The Big Rock, Middlesex
Welcome to Waitsfield
Now that you've enjoyed the natural beauty of Vermont, pull off to grab a snack, drink and some gas at The Village Grocery in Waitsfield. A family owned country store with a standout deli and some fresh pressed, almost world-famous orange juice. Owner Troy Kingsbury is always up for a chat. An avid racecar driver and a champion community member, Troy is a major player in the Wheels for Warmth effort and also the founder of the Race to Read, a kids literacy program using race cars to inspire children's passions for reading. While you catch up on the happenings in town, you'll notice beautiful and fun metal sculptures all around. Troy makes those himself!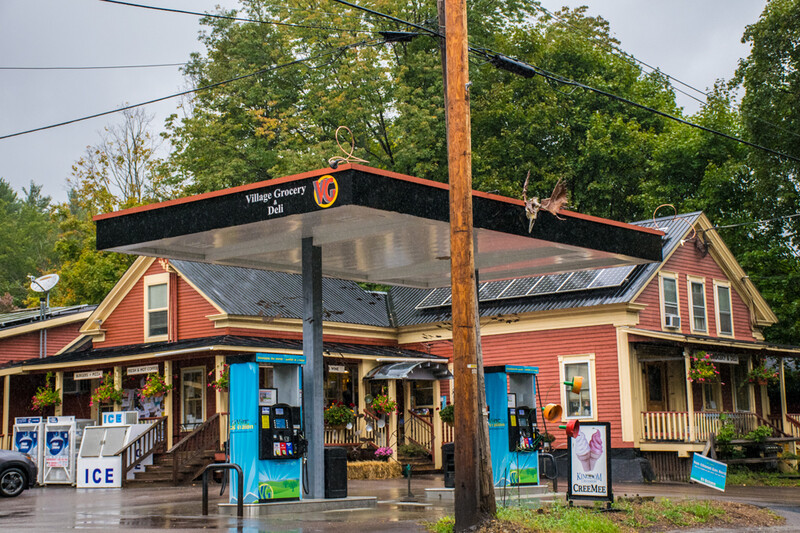 The Village Grocery, Waitsfield
Grab Something Special
As you continue to drive along route 100, you're headed straight to the heart of the Mad River Valley. We're staying in Waitsfield for the final stop on your trip, Mehuron's Market. In 1941 Mehuron's Market began under the direction of Elmer Mehuron. As a Vermont country store on Bridge Street in Waitsfield, Mehuron's was a center of local commerce. Now, almost 100 years later, the store is on its third generation of family ownership, and has moved and expanded with the times. With a focus on locally produced, high quality products, you'll find all sorts of Vermont Made and specialty goods on the shelves here. Get something to share!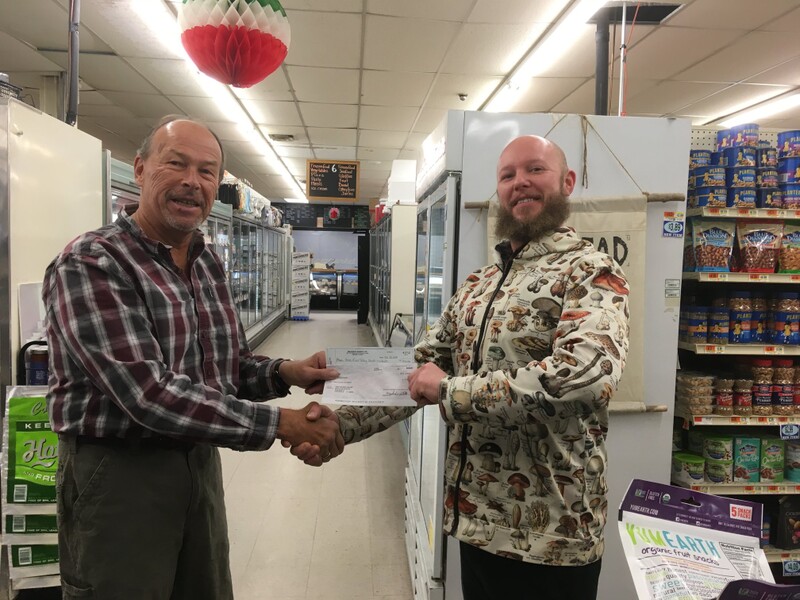 Tom Mehuron (left) presents a donation to the Mad River Valley Meals On Wheels in 2019
Enjoy the Mad River Valley
While this ends our "route" for the day, we'd be remiss not to mention the Mad River Taste Place just down the street from Mehuron's. While you're in town, stop by to check out a variety of Specialty Vermont Products including bourbons, cheeses, beers, and ciders. Some of our favorite brands are represented here, including: Mad River Distillers, Boston Post Dairy, Grafton Village, Neighborly Farms, Vermont Salumi, Pinup Pickles, and Blake Hill Preserves. Continue on up the road and you'll eventually find yourself in Mad River Glen. Drive the mountain road and you'll be met with some amazing views even if it's not slope season.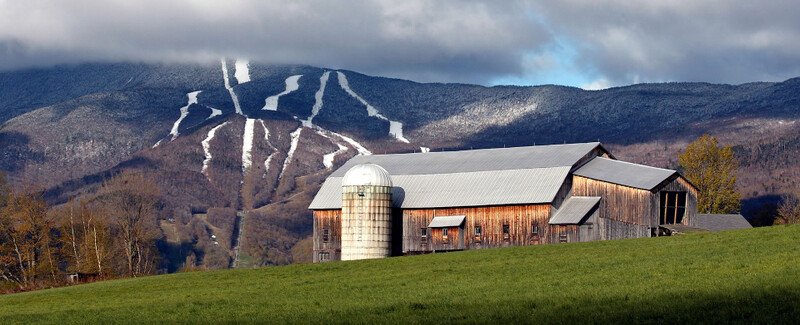 Next Blog Post
As members of VRGA, McDonalds finds great value in the coalition of businesses- especially smaller businesses- that work together to educate, advocate and showcase the countess ways we contribute not just to Vermont's economy, but to civic life. VRGA -and its leaders -do a great job in staying on top of the matters that affect us and in fighting for what affects us- in the legislature and at every level of government.