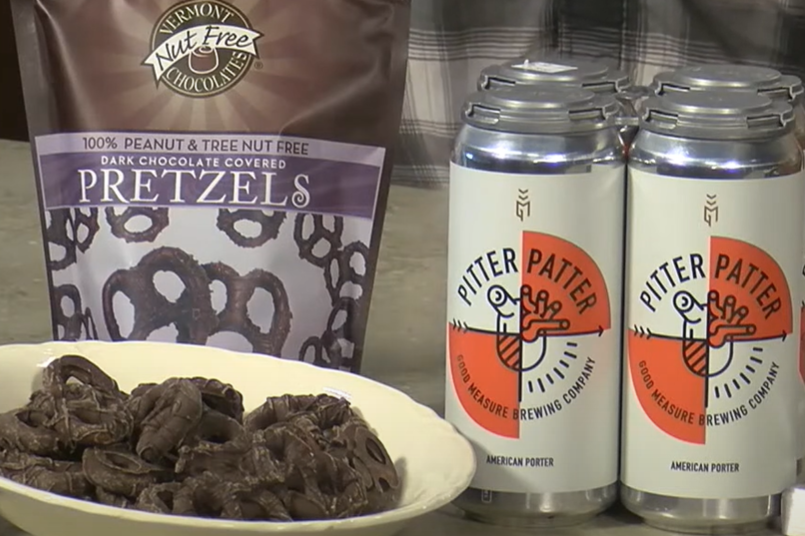 Vermont Retail and Grocers Association (VRGA) and the Vermont Specialty Food Association (VSFA) work together to guide Vermont made products through the doors of grocery and retail stores statewide. In early 2021, VRGA Member Farrell Distributing approached the associations with an idea: Take Vermont specialty foods and pair them with beverages that would enhance and highlight the unique nature of both products.
With a wide assortment of beers, wine, ciders and non-alcoholic (NA) beverages in their catalog, Farrell was the right choice to lead this project. VSFA reached out to producers around the state and provided their products to Farrell Distributing who then paired these foods with the perfect beverage. Farrell utilized New England Cooks kitchen space in Barre to prepare and shoot a series of pairing videos.
The pairings range from sweet to spicy, savory, and everything in between. Beverages run the gamut from beer and wine to cider and NA. There's a little something for everyone in this delectable series. We highly recommend stopping in to your local store, grabbing a couple of the below matches and taking a taste for yourself. Many, if not all, are the perfect treat for sunny days. If your store doesn't carry one of the brands, let them know you'd like them to or consider ordering directly from the producers themselves.
We've got twelve great pairings for you below! To make them easier to digest, we've split them into two groups:
Part 1:
Part 2:
Next Blog Post
Dan & Whit's General Store has been in business since 1955. Dan & Whit's, in addition to offering gas, food, clothing, hardware, meat, produce, flowers, to go pizza, seasonal creemees, is also the community center of town.