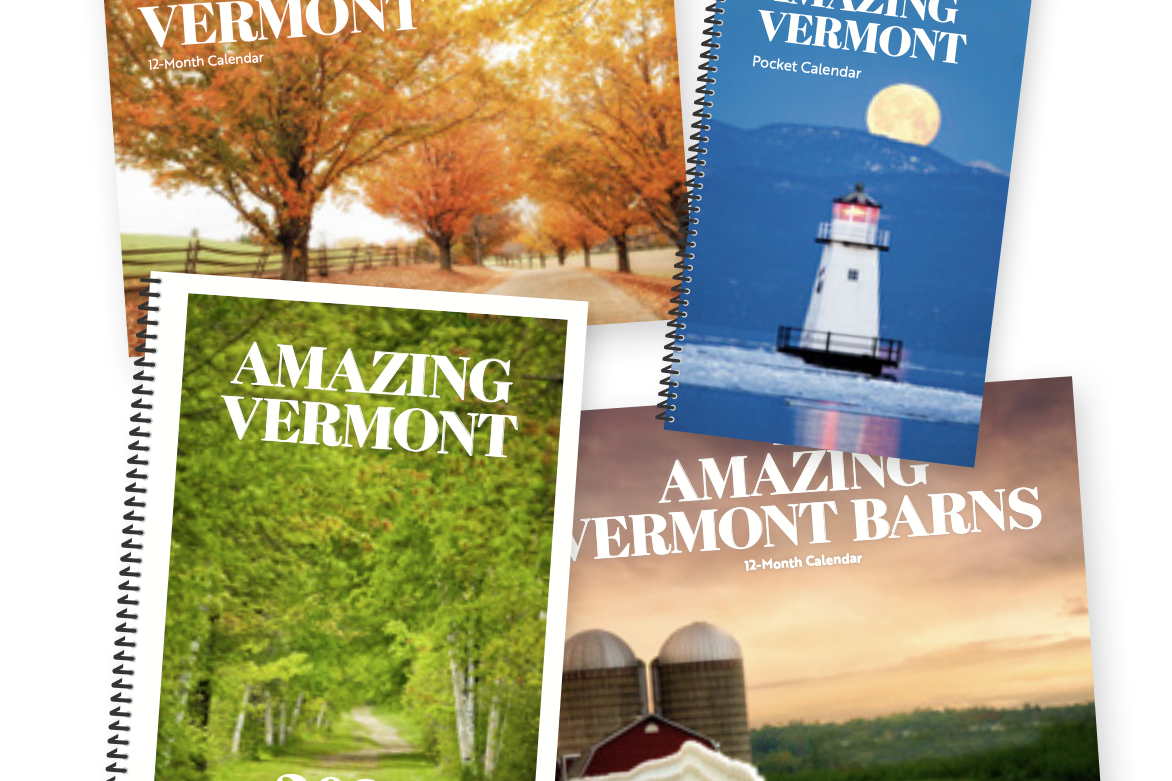 Member Spotlight: Amazing Vermont Calendars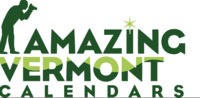 Amazing Vermont Calendars
Picture your world...AMAZING!
1971 - Photography chose me after high school. Borrowed old camera, bulk-loaded film, drove across US shooting sunrises in southwest and sunsets over snow-covered mountains. 1976 - After 4-years in USCG, studied photography at Rochester Institute of Technology. 1977 - Opened first Chicago-based studio. Worked hard for a couple years earning enough money shooting products while living in a corner of my studio. 1979 - Moved to Boston. Landed projects from advertising agencies, design firms and companies.1992 - Met Orvis Company art-directors. They hired me to shoot products for catalogs. Nine-years, 5 art-directors, and 3500+ photographs later all art- directors had moved on to other jobs. My turn... ...but I was in love with Vermont!
2010 - Met prospective client at pizza supper who asked to see my portfolio. Fifteen years of my very best images were mounted on black-matboards with beveled-edge windows featuring 8X10 original color transparencies safely stored in my basement. Result: many pieces smothered in mold. Isolated those recoverable. Washed with cloth dampened with vinegar. Saved a few. Off I went to portfolio review. Mortified. Terrified. Hopeful. The open-minded woman, now a long-time friend, was welcoming, reassuring, and hired me! 2014 - Created and sold note cards of beautiful Vermont scenes to retail stores. Nice "hobby" with sales exceeding 20,000/year. It was a "penny" business but I enjoyed figuring out production cycles, inventory management and sales obstacles. 2018 - Vermont Life announced they're going out of business. Their magazines and hugely popular calendars end after 2019 sales. 2019 - To "test" market left by Vermont Life I created and sold out of 3,000 2020 Amazing Vermont Wall Calendars. Retail store customers LOVE them and our wholesale partners / retail store owners are profiting from sales!
Interested in bringing in their calendars?
Check out their Sell Sheet here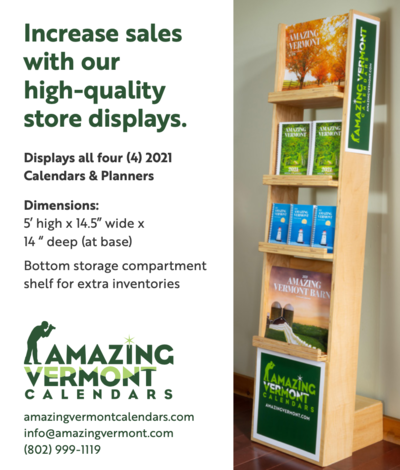 My proudest accomplishment - is just around the corner
After a life-time gathering business skills and experiences, I'm seeking investor funding and mentoring to grow Amazing [state] Calendars throughout New England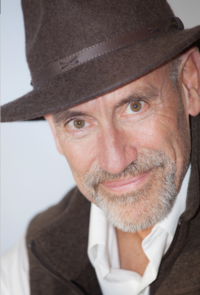 Jonathan Hart
Amazing Vermont Calendars Amazing Vermont Photography, LLC Charlotte, VT 05445
Mobile: 802-999-1119
Email: info@amazingvermont.com
Next Blog Post
Governor Phil Scott this morning announced that effective August 1st masks will be required to be worn inside public places and outside if it is not possible to practice social distancing. This requirement…