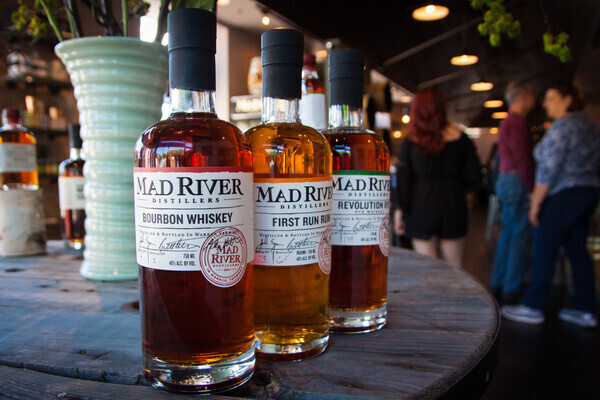 Our VRGA Member Spotlight features a member each month highlighting their business, products and experience in the industry. For this spotlight we asked Mad River Distillers a series of questions.
Answers provided by: Mimi Buttenheim, President, Mad River Distillers
Q. Tell us a little bit about your company's background and what you produce.
A. Mad River Distillers produces whiskey, rum and brandy in Warren, Vermont. Everything is mashed, fermented, distilled and bottled in house. The Mad River Valley has long been known as a skiing destination, but also has a strong agricultural tradition. The distillery began as an apple brandy project on the founders' 150-year-old farm in 2011, and progressed into a distillery specializing in aged spirits. Currently, the company's portfolio includes four whiskeys, five rums, and the original Mad Apple brandy. Mad River Distillers is distributed in 8 states including New England, New York and California. Our products are available at Vermont's 802 Spirits stores, the Mad River Taste Place, and at the distillery's flagship tasting room in downtown Burlington, Vermont.
Q. What do you find most rewarding about owning your own business? Or What do you find most rewarding about working at a Vermont company?
A. Running a business in Vermont is a geographic challenge because of the small population, but the size of the state allows access and collaboration with other makers (we do a popular single malt whiskey release called Hopscotch with a different Vermont brewery every year). Vermont's size puts us on a first-name basis with legislators, as well as the liquor commission. We also have a phenomenal SBA contingent in Vermont, and I have benefited immensely from their programs. I took an intensive SBA course which was essentially a small business centric MBA program, and our group still keeps in contact.
Q. What is your proudest accomplishment as a business owner or employee?
A. My proudest achievement as a business owner is the commitment that our distillery has made (and upheld) to be completely transparent with our process. There have been many opportunities to take shortcuts in production and sourcing to save time and money, but our core business is producing spirits from scratch using high-quality, regional non-GMO ingredients. Consumers are definitely becoming more aware of the source of their favorite products and I believe that has helped create brand loyalty. I also extend this transparency to our employees, and I hope they view me as an honest and sincere resource who will help them grow along with the business. I have worked for employers in the past where the employees were not informed about what was going on within the company, and that was a disorienting and uncomfortable situation. Being an open resource to employees is great for morale and team building.
Q. How has COVID-19 changed your approach to business?
A. Covid-19 has cemented my commitment to hospitality. When we reopened our tasting room for retail sales last spring, I worked in the store myself with our founder. In my heart, I love interacting with our customers, and I know that people ultimately crave a connection to the brands they support. We always respond to customer inquiries, and we always try to get to a "yes" with our customers. Although Covid-19 cemented the need for robust e-commerce channels, here in Vermont the core of our business is still face-to-face interactions. It also cemented our place in the community. At the outset of the pandemic, we were able to quickly pivot and produce hand sanitizer and distributed it throughout the area for households and first responders alike.
Q. Why did you choose to become a member of the VSFA? How have you benefited from being a VSFA member?
A. I became a member of VSFA (and a board member in 2020) because VFSA is an incredible resource for both manufacturing, sales, and marketing. We share the same struggles as many food businesses who produce their own products and then must manage inventory and production and develop sales channels. As with the distilled spirits community, the specialty food community is open and welcoming and I have learned a great deal from the VSFA bi-annual meeting and webinars. Plus, I've been able to try some excellent products!
Q. What do you most enjoy doing in your spare time? Do you have a hobby/favorite pastime?
A. My husband and I live in Waitsfield with our three dogs. When I'm not working or with them, I am at the barn with my two horses. One is a retired Thoroughbred (named Boots) and the other is a Dutch Warmblood (named Leo). I compete in Three-Day Eventing and Dressage. Vermont may be small in population, but it is an amazing place for equestrian sports, and that is one of the main reasons that I moved here, and still tolerate the winters!
Learn more about Mad River Distillers' products and history by visiting their website: www.madriverdistillers.com
Next Blog Post
Working Alongside Vermont's Food and Farm Industries to Protect Vermont's Land and Watersheds We are excited that Regenerative Agriculture is trending globally. The year's April Earth Month theme is Restore…