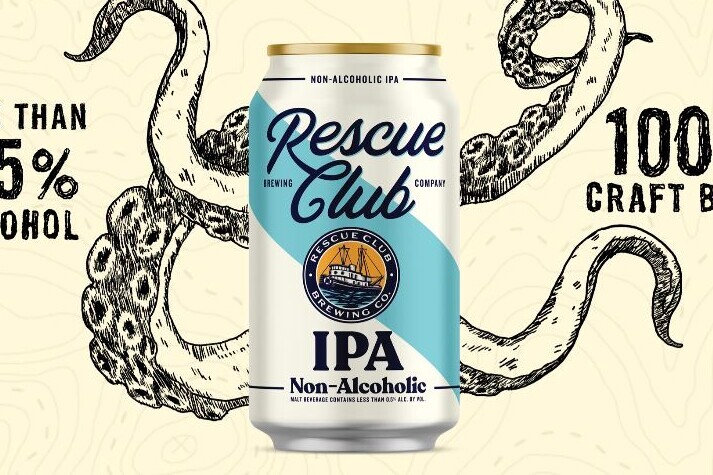 Non-alcoholic Beers Rocket into the Spotlight
Sponsored post by Farrell Distributing
For many years, non-alcoholic beer was viewed with the same sidelong glance as decaf coffee and sugar-free candy. It was a niche product sold, presumably, only to those whose doctors had advised them to quit the sauce but who still wanted to have a cold one after a round of golf. Today, the non-alcoholic beer category is accelerating rapidly, driven by craft brewers, and the customer base is expanding to include almost all demographics, from Gen Z consumers to retirees.
The craft beer movement was founded on the ideal of providing a myriad of flavorful and interesting beers, and brewers today are focusing their attention on creating unique brews sans the alcohol. Non-alcoholic hazy IPAs, espresso-infused Stouts and even tangy sour beers are hitting retail shelves in Vermont. Rescue Club (Burlington, VT) released a non-alc IPA in early January making it the first Vermont brewery to enter the N.A. space. BrewDog (Ohio) has a line of "AF" (Alcohol-Free) beers led by "Hazy AF" IPA & "Wake Up Call" Coffee Stout. The world's longest continually operating brewery, Weihenstephaner (Germany) makes a stellar non-alc Hefeweizen. And even the big brewers are innovating with new products like Budweiser "Zero" which clocks in a 0.0% alcohol-by-volume.
Each brewery has its own proprietary method of brewing these near beers. Some will brew full-strength beers and then carefully remove the alcohol. Others will halt fermentation before the yeast can produce more than 0.5% ABV.
With all the new non-alc beers hitting the market, retailers are allocating more shelf and cooler space to these anytime sippers, and rightly so. Industry sales data indicates that the non-alcoholic beer category is on a meteoric rise, fueled by a variety of factors including health & wellness trends and reduced alcohol consumption by Millennials. With lower calorie and carbohydrate counts, no risk of a hangover, but still providing a full-flavor experience, non-alcoholic craft beers are slaking the thirst of a bevy of drinkers.
For those interested, give Farrell Distributing a shout to learn more by contacting Ryan Chaffin at ryan.chaffin@fdcvt.com

Next Blog Post
Shrubbly began like many other great Vermont brands: A long shot. After a lengthy search for farmland that Matt and Amy Sayre could afford, in 2010 they found the perfect piece of land. For the first few…