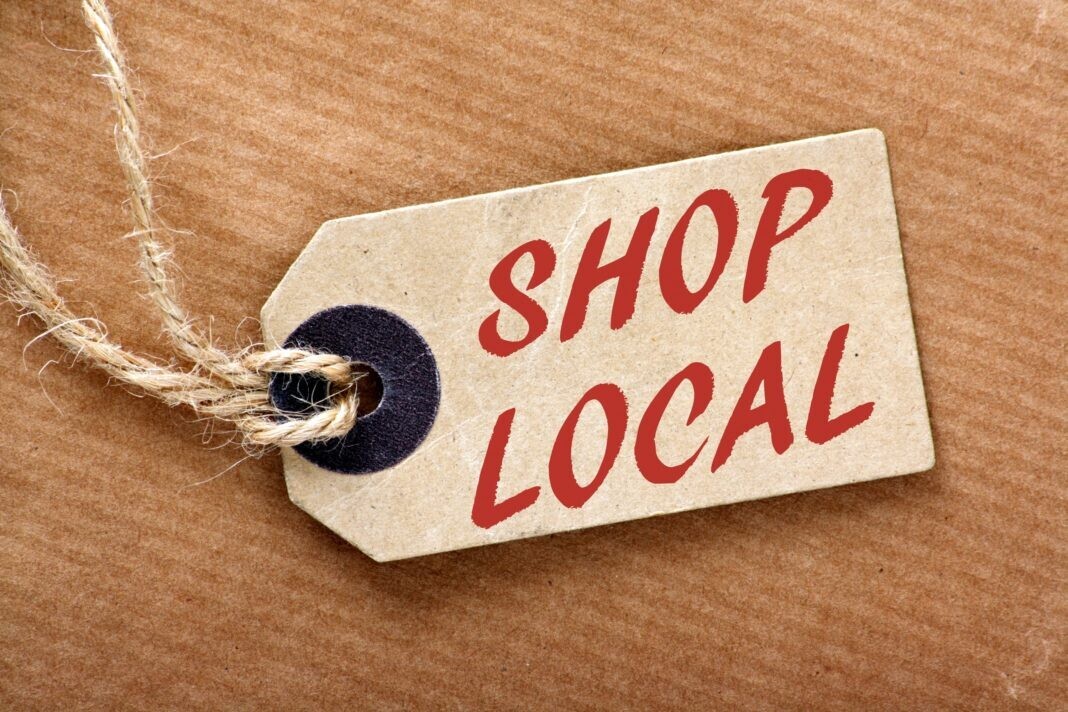 While some people still feel comfortable walking into their local store, many don't and that's okay! As the holidays approach, lots of people find themselves wanting to support local businesses, but unsure how to do that. We've put together a guide to Vermont businesses who have beefed up their online ordering during COVID-19. These days, it's not a choice between shopping local and shopping online. You can support your favorite main street business from the comfort of your couch, whatever you're shopping for. We've broken this guide down into product categories to make it easier to digest.
This isn't all inclusive, if your favorite store isn't on here give them a call or head to their website anyway! They may have options for delivery they didn't have in the past.
Pools, Spas and Game Rooms
Let's be honest, it's been a stressful year for a lot of people. Maybe you need to unwind, or maybe your family or friends have been going non-stop and you want to gift them something to take their minds off the world. Either way, these retailers are here to help, and it can all be done with the click of a button (and maybe a phone call or two).
Mendon and Williston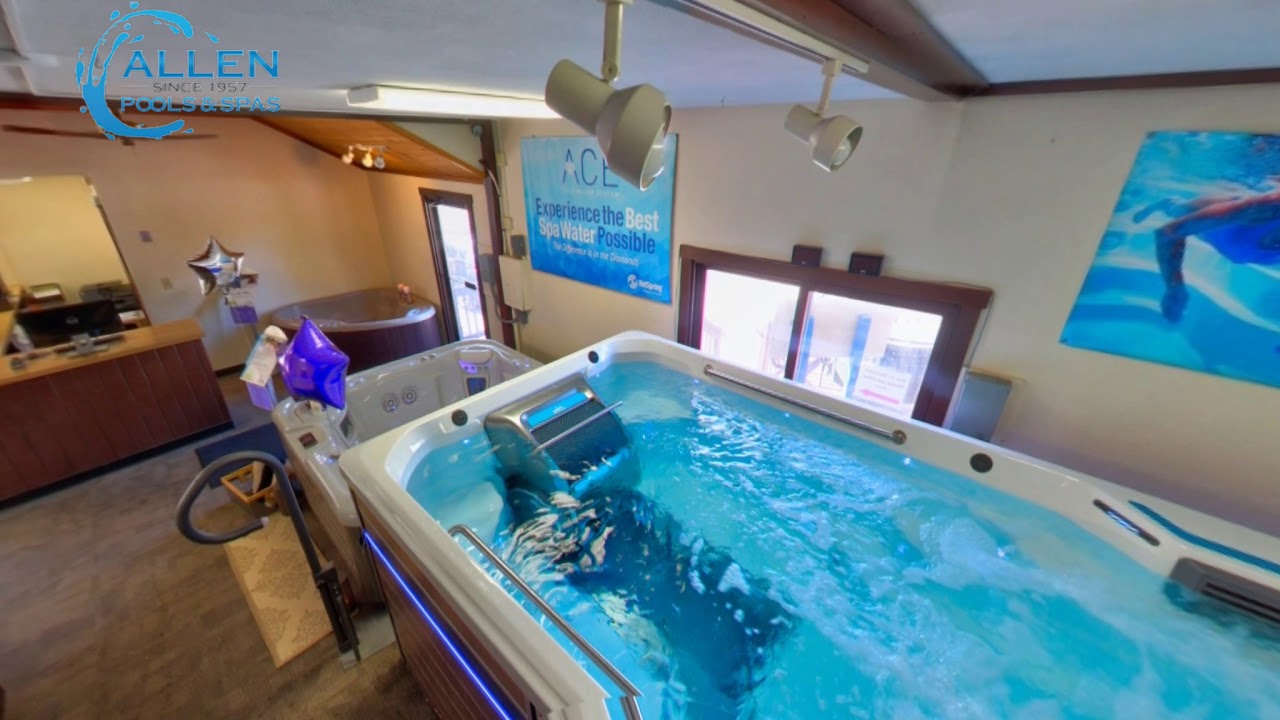 Allen Pools and Spa's Showroom

Allen Pools and Spas has been helping people find their perfect pool or hot tub since 1957. This full service business will run you through the entire process from purchasing to installation without missing a beat. From the sales team to the install techs, everyone is well versed in what it takes to get you from dream to dip.
With recent events, Allen Pools and Spas has beefed up their website and moved to increase the ability of customers to safely shop and purchase their products. If you want to come in, you can schedule a private showroom appointment and get a first hand look at all their models. If you're averse to that, you can see the entire range online with detailed images, size info, and more. Fill out an inquiry form and someone will get in touch with you as soon as possible.
With curbside pickup and delivery both offered, you can go from sitting on the couch to sitting in a spa without ever leaving your home!
Burlington and Barre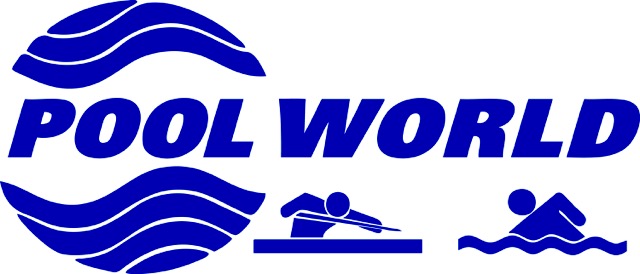 Coming up on their fiftieth anniversary, Pool World has been stocking the finest pools, spas, billiards tables, dartboards and other home games since 1971. They have a passion for recreation that permeates the place, from staff to owners. You're not just tapping someone to sell you a pool or game, you're tapping into decades of experience and product knowledge. They can help you take your dreams to reality, and create a vision of what your recreation area should be.
From foosball to air hockey and everything in between, this is the right place to take your game room to the next level. Carrying only the finest brands like Brunswick and Olfhausen Games, you'll find a quality product that will last you a lifetime. Browse their offerings online, but keep in mind that they do custom work as well. If you don't find something to match your chosen decor, give them a ring. They'll put together a design using custom woods and finishes that will bring the room together like no other. And don't worry about the implementation, "difficult" installations are their specialty!
If games aren't your thing, they also stock a full selection of in-ground and above ground pools and spas. Again, they're more than happy to work on something custom for you when it comes to these.
Clothing and Outdoor Gear
Nothing is a more classic gift than a pair of sturdy socks, a cozy sweater, or a water purification system! Ok, maybe not the last one but if you're like most Vermonters you'd still appreciate it. The stores below offer all that and more, with a focus on fashion and outdoor gear.
Montpelier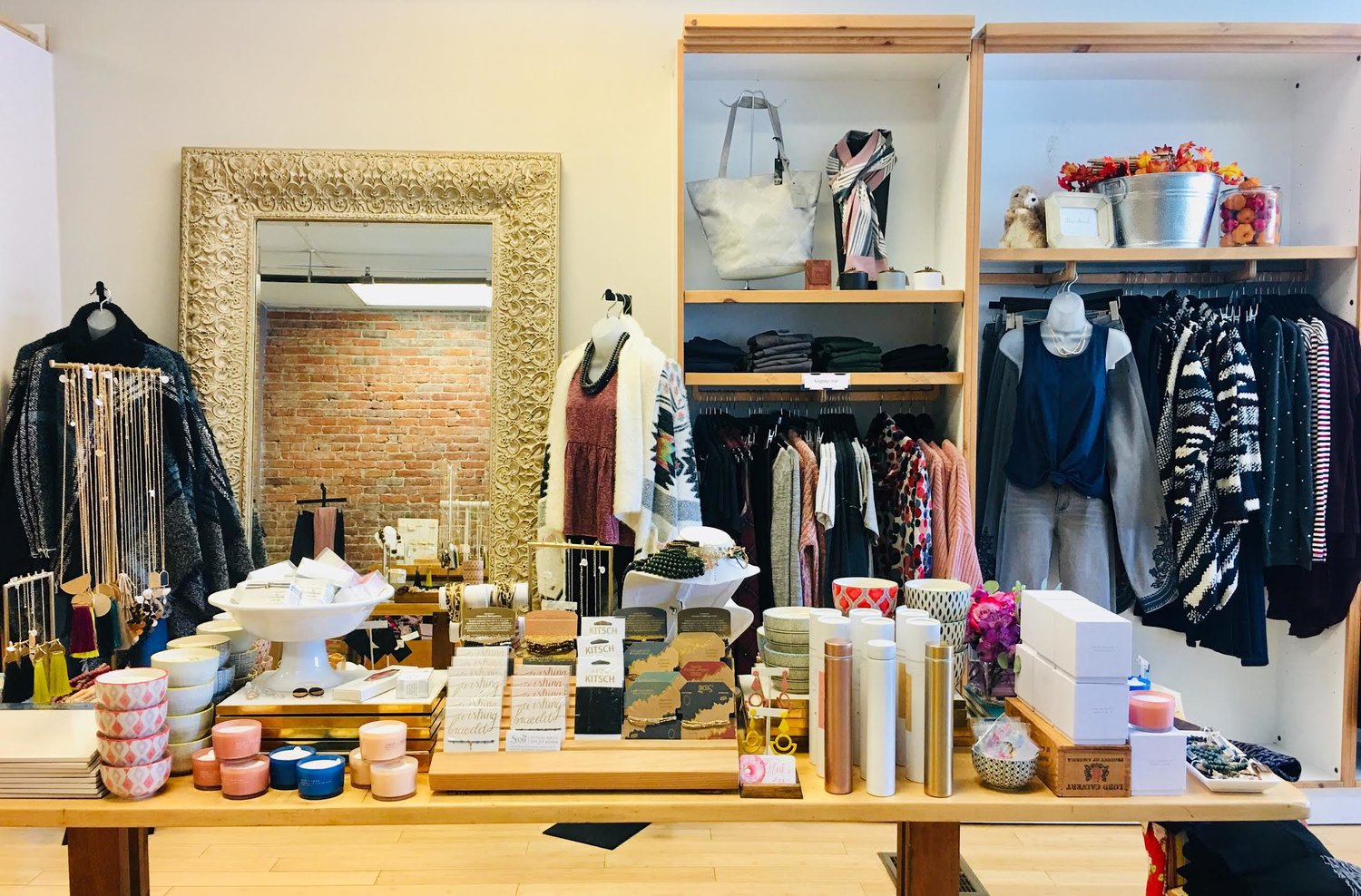 Bailey Road

Bailey Road is where style and confidence intersect to create a curated wardrobe that will inspire both in the wearer. Owner Sarah DeFelice is a firm believer that clothes can empower a person and this is reflected in the fashion forward fits that she puts together daily in the store. From sailor pants to wide sleeve turtlenecks, shopping Bailey Road is "like looking through the closet of your most fashionable friend", as Sarah herself puts it.
You're not just supporting a local business when you shop here, you're supporting local brands as well. WIth a number of Vermont designers represented in their wares, Bailey Road can help you find something you love from someone right down the street!
While you may not want to walk in, you'll find everything from clothing to accessories on the web and available for delivery to yourself, family and friends.
Bradford

Farm-Way with Holiday Lights Set Up

Farm-way is a cultural experience more than a store. It's a slice of how Vermont is and always has been, speaking to the rhythm of Vermont life. Carrying everything from outdoor gear and clothing to specialized animal feed and fencing, you'll struggle to find a broader selection.
You may be a local farmer stocking up on horse oats, or you may be a tourist coming by for a Carhartt hoodie and some good conversation. Either way, Farm-Way has it covered. While you won't get the full feeling of being there, Farm-Way has taken their time to improve their website. It gives a slice of the store and the people in it, as well as the products you're purchasing.
Unique Gifts
Looking for something for the person who has everything? Love to give a gift that no one will get from someone else? Check out these unique local businesses offering products you'll only find through them!
Charlotte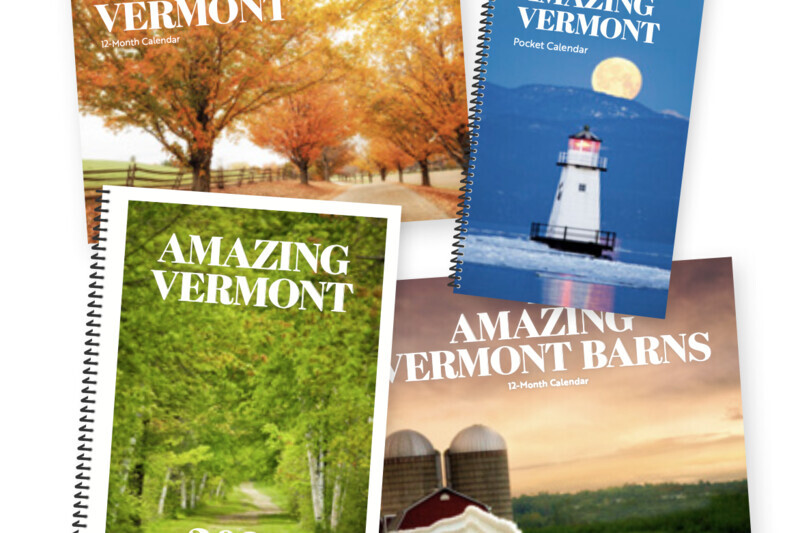 2021 Amazing Vermont Calendars

Amazing Vermont Calendars is the brainchild of (equally amazing) photographer Jonathan Hart. Jonathan set out with a purpose, to bring some of the dazzling landscapes and colorful hidden vistas of Vermont to those around the world. With the closure of Vermont Life magazine, there was an untapped market of those yearning for Vermont foliage to hang on their wall. Jonathan saw this and ran with it, creating Amazing Vermont Calendars.
Whether you're a lifelong resident or spend your days dreaming of the Green Mountains you'll feel an equal sense of wonder flipping through the pages of these calendars. From a tapestry of fall foliage to the shimmer of moonlight on Lake Champlain, these calendars remind you of the beauty of the world around you. The stunning landscapes aren't limited to your office, they also offer Amazing Vermont planners and smaller calendars as well as wall hangers.
Shopping online with Amazing Vermont Calendars isn't restricted to individuals though. Through their site, you can sign up for wholesale accounts and place discounted bulk corporate orders. What better way to thank your employees after a long, tough year than introducing some true beauty into their daily lives. If your business used to carry Vermont Life, this is a wonderful replacement for that hole in your inventory as well.
South Royalton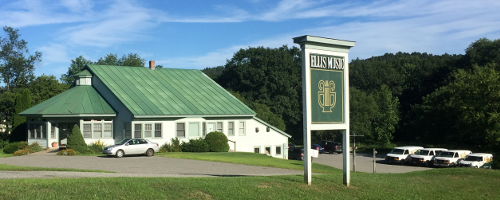 Ellis Music Company
What better way to while away your hours in pandemic isolation than by learning a new skill? Or maybe you're looking for something to occupy the kids while they're learning from home? Either way, Ellis Music company can help.
Ellis Music Company has been guiding Vermonters on their musical journeys for over seventy years, opening their doors in 1946. The business was started by Richard Ellis, who initially was seeking to provide instruments to his rural music students who were miles away from any real music store. When other teachers in the region started asking him to bring in instruments for their students, he sensed a business opportunity and went full force with the Ellis Music Company.
For a long time Ellis Music Company was operated out of the family home, but things changed significantly in 1988 when the company moved into its current location with a 7200 square foot facility housing a showroom, offices, repair shop, and warehouse. The following year, 1989, Richard retired and passed the business on to his children. You'll still find the business in their hands today.
While the showroom should be on your "visit someday" list, right now Ellis has a robust online shopping system in place. You can find everything online that you would find in store, including instruments, instrument accessories, music and method books, software and even COVID specific music products (bell covers, musicians masks, and instrument sterilizing tools). Whether you're looking for a flute or a flugelhorn (yes, it's real and you can buy it from Ellis!), you can place your order safely from the comfort of your couch and include some instructional sheet music with it.
Specialty Foods and Vermont Products
Looking for something to satisfy your sweet tooth? Something smoky or chewy? These stores offer the best Vermont specialty foods and beverages, as well as local craft products.

A Slice of Vermont is an online marketplace full of Made in Vermont goods. From specialty foods to unique apparel, bath and body products, and home goods there's always something interesting at A Slice of Vermont. You can shop from multiple brands and have them all show up in one single package when you check out, making it easier than ever to support local producers from all over the state.
A Slice of Vermont is growing fast, so we recommend checking in often as new brands show up all the time! Our picks for best gifts: Benito's Hot Sauce, GoodMix Superfoods, Live Young Kitchen, Sherpa Foods and Yerbary Master Tonic! You'll find something for everyone between those brands, and they're all unique local producers of Vermont products, utilizing Vermont ingredients!
Shelburne and Richmond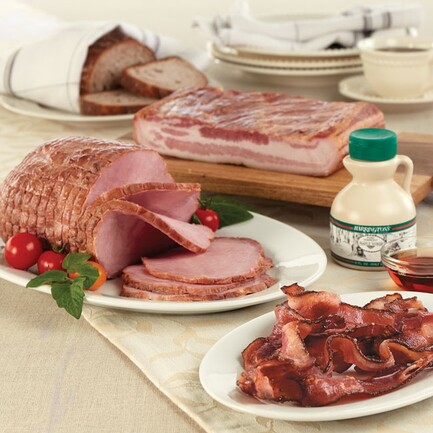 Harrington's Breakfast Spread
Harrington's has been synonymous with a happy holiday season in Vermont since 1873. For over 145 years Harrington meats have graced the tables of people nationwide, born in the hazy halls of their Vermont smokehouses. Whether you're looking for ham, turkey, cornish hen, bacon or cheese, you'll find it at Harringtons.
On the Harrington site, you'll find a wide variety of preparation options: Corn cob smoked, thick cut, peppered, air dried… We challenge you to find something you want that they don't offer, and it's all locally produced and sourced. Make sure to order soon if you'd like to get your order in time for the holidays!
Next Blog Post
Cecile and Tom Branon purchased a Fairfield dairy farm from Tom's father and mother in 1984. From there, Branon Family Maple Orchards morphed into a 4,000-acre sugaring operation in Fairfield and Bakersfield now producing a line of specialty maple foods with a growing legion of faithful customers both locally and nationally. We are a family operation working with our sons Kyle, Shane & Evan, their wives Loni & Jennah, and our grandchildren.