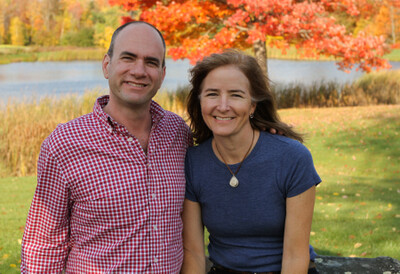 In 2016, husband-and-wife team Eric and Laura Sorkin founded Runamok Maple in Cambridge, VT. Runamok Maple produces pure maple they call "Sugarmaker's Cut" and a specialty line of infused, smoked, and barrel-aged maple syrups. Runamok is certified organic by the Northeastern Organic Farmers Association and Bird Friendly by the National Audubon Society. The Runamok crew taps 81,000 trees in Cambridge and crafts their products in a 55,000 square foot facility in Fairfax, VT. While the core of their business is producing their own line of innovative maple syrup, Runamok also does private labeling for other companies.
Co-Owner Eric shares that the creative and collaborative process of owning his own business is what he loves most. "I like building things; whether it is systems, new products, or creative marketing approach." The challenge of growing a business Eric says is also rewarding, "It takes a lot of teamwork to solve problems and nail down efficiencies in operations and production." Their proudest accomplishment as business owners is being able offer healthcare benefits to their employees. For them it was, "the ultimate sign of success," says Eric and, "especially important during times like these."
To that end, "there is a lot of responsibility that comes with owning a business to do right by your employees, vendors, and customers," says Eric. These responsibilities are constantly highlighted by external challenges. "Working as a team to overcome those challenges, relying on the wisdom and input from our own employees as well as external sources," is how they combat their challenges. This process is how they've navigated the ever-evolving challenge of COVID-19. In early March Runamok quickly pivoted to a work from home model for all their office staff. They also began implementing new procedures before they were mandated such as, "knowing when to stay home and requiring folks to do so if they felt sick." Other company changes implemented include: no outside visitors are allowed at their facility, extra steps are taken to follow CDC guidelines, and employees are required to maintain distance and wear masks in their facility.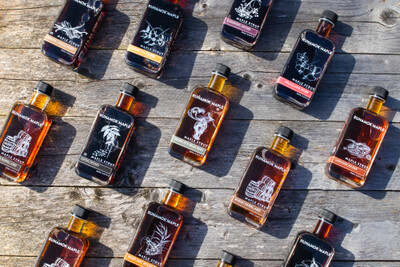 Amidst the crisis Runamok has found some silver linings. Like many specialty food producers, Runamok's business is diversified. Sales channels like food service and specialty retailers (a core of their sales) have shut down, but grocery and eCommerce continue to outperform. And shortly after the shutdown Runamok was asked to participate in a hand sanitizer project with Vermont companies Caledonia Spirits, Aqua ViTea and Farrell Distributing. Eric shares that, "the demand was more than any one company could manufacture and source and we were thrilled to play a key role in the production of 10s of thousands of units of hand sanitizer that were packaged under the Barr Hill brand name." Eric acknowledges that, "this was an important event not just to help meet the critical need that existed for sanitizer but also to assist in keeping our production lines moving and team fully employed." The biggest goal for Eric and Laura was to keep their team intact throughout the COVID-19 crisis.
What advise does Runamok offer to new business owners? Identify what makes your product unique. Ask how you can differentiate your product from others in your category. "With any good business, you should understand what value your brand is bringing to the market and make that your main focus," Eric advises. Runamok Maple is excited to announce they have rolled out a limited release program featuring new versions of their barrel-aged and infused syrups. Runamok is also launching two brand new product lines this summer. New offerings will be featured for limited times throughout the year.
Runamok is proud to be a part of VSFA and its community which contributes to the vibrant food ecosystem in Vermont. Eric says, "our membership in VSFA provides a constant source for important industry news, updates and insight," and is a, "resource when we have questions." Eric shares that VSFA's meetings are a valuable way to connect and learn from industry peers.
To learn more about Runamok Maple, their products, values, and more:
Name Annemarie Linnehan
Phone 802-644-9366